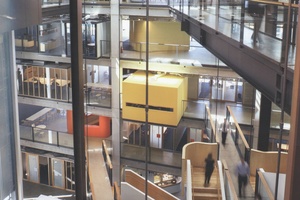 If you work for ASB and you are in Takapuna's Sovereign House, Albany's C:Drive or are about to move into ASB North Wharf at Wynyard Quarter, then lucky you.
Workers in these three buildings could count themselves as lucky to be housed in New Zealand's best offices, considered by the world's architects to be so delightful that they won a slew of awards.
The Takapuna and Albany buildings have collected perhaps more international awards than any other two big office blocks in New Zealand and are regarded as superior from a functional and architectural viewpoint - not just nice to look at from the outside.
C:Drive workers get funky breakout areas, designed to relieve the stress of being in a call centre, so a petanque court was part of the original layout.
Sovereign's staff work in an office which uses an open view design, to help establish employee connections within its five levels.
The super-evolved offices have polished concrete floors, transparent glass-walled offices, layout discouraging office hierarchy, architecture which fosters good internal relations - and all in a building which from the outside looks so unusual that it became the backdrop for the TV series This Is Not My Life.
All three ASB buildings have been a collaboration between ASB property general manager Derek Shortt and Australian architect James Gross of BVN, often working with local firm Jasmax.
The Ironbank building on Karangahape Rd is considered to be a superior work environment, rejecting air conditioning in favour of doors which open.
Westpac's Britomart offices are like that, too - upper level workspaces opening out on to glamorous large decks with barbecues, mainly because the penthouses were designed to be sold as homes.
NZ Institute of Architecture staff have had a radical office upgrade themselves lately, leaving Dominion Rd's D72 for the glamorous green glazed Zurich House at 21 Queen St.
Aecom House, the engineering designer's new offices at 8 Mahuhu Cres by Brett Russell's Dominion Constructors, were also a huge step-up for that business which moved in last year, adding a touch of glamour to the workplace with art, lighting, interior design, layout and colour schemes.
The firm left two Newmarket sites for the Quay Park building where it leased three floors, with capacity for 420 workstations, although about 360 staff work there.
Fonterra's new Viaduct offices are expected to be a knock-out and the stately Fletcher Building Penrose world headquarters entertains staff with New Zealand's best corporate art collection.
Geyser, the new Andrew Patterson-designed Parnell office block at the top of the rise, is also stylish, mimicking a volcano with the lava - and colours - changing from the carpark to the rooftop.
And car dealers would probably strike a deal to work in one of Colin Giltrap's Great North Rd offices in Grey Lynn at the top end of Karangahape Rd.
Giltrap Prestige is a multi-level hall of motoring wonders, stacked with racing, yachting and sporting trophies and memorabilia.
The nearby Giltrap Audi Terminal includes a curved interior design which draws inspiration from 1930s race tracks.