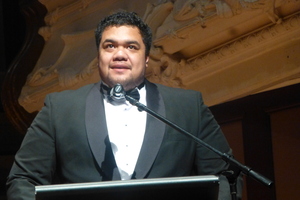 There was something reassuringly old-fashioned about Tuesday night's Pene Pati & Friends, a celebration organised by Auckland Opera Studio to welcome home the Samoan-born tenor who is something of an operatic hot property.
Pati's latest success with San Francisco Opera has drawn critical plaudits from those who know; but then the singer went to the States with a slew of awards from both sides of the Tasman.
Distinguished company included brother Amitai, winner of last year's Lexus Song Quest, and Egyptian-born soprano Amina Edris who topped this year's Sydney's McDonald's Aria.
With bass-baritone James Ioelu, runner-up to Edris in Sydney and soprano Marlena Devoe, placed fifth in the same competition, little wonder that Pati advised us, with the playful cheekiness of a Prince Tui Teka, that we would be hearing the international stars of tomorrow.
The evening would have been poorer, too, without pianist Rosemary Barnes, justly acknowledged by Pati as the singers' "orchestra".
After Pene Pati's introductory romp through Questa o Quella, Edris gave us a scintillating Gavotte from Massenet's Manon, admonishing us with a wagging finger for twice breaking in with applause.
Ioelu was bearishly Mephistophelian in his Golden Calf turn from Gounod's Faust and a radiant Amitai Pati captured Alfredo's joys at the beginning of La Traviata's second act.
After this, Marlena Devoe was a thoughtfully nuanced heroine from Charpentier's Louise.
Ensembles worked well. If the Pati brothers joshed their way through a Rossini tarantella, then Pene and Edris made a few minutes from Verdi's Rigoletto come to life in concert, ending with the soprano's brilliant Caro nome.
Ioelu and Edris stole the show in a La Boheme quartet, as the feisty Musetta and Marcello, after the two sopranos had delivered total ravishment in the famous Lakme duet.
We were here to tribute Pene Pati. He is a phenomenon, solid in stature, with vocal chops to match. Introducing his brother for the last time, Amitai Pati talked of "a man who knows what he wants and goes out and gets it".
Which he did with the final scene from Donizetti's Lucia di Lammermoor, with subtle shifts of mood, climaxing in a glorious top D that seemed to go on forever.
What: Pene Pati & friends
Where: Auckland Town Hall