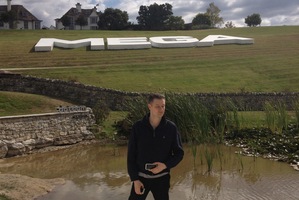 Sculptor and installation artist Simon Denny has been chosen as New Zealand's representative for the 56th Venice Biennale in 2015, with his piece that looks at global intelligence sharing.
Denny's work has explored the culture of internet-technology firms, the obsolescence of analogue technology and corporate culture.
The work he will present at the contemporary art exhibition in Venice, Five Eyes, refers to the "five eyes" of the USAUK Security Agreement, under which New Zealand, the United States, the United Kingdom, Australia, and Canada share electronic intelligence.
"His work is rich, intelligent, challenging and political," New Zealand Commissioner for the 2015 Venice Biennale, Heather Galbraith said.
"We are confident it will be very compelling within the context of the Venice Biennale."
Denny's work questions how information is controlled and shared, she said.
The Arts Council of Creative New Zealand also said Robert Leonard was chosen as the curator for New Zealand's presentation at the biennale.
Leonard is one of New Zealand's most experienced contemporary art curators and writers.
Since 2005 he has been director of the Institute of Modern Art in Brisbane and next year he will return to New Zealand as senior curator for Wellington's City Gallery.
Ms Galbraith said Denny and Leonard's partnership was exciting.
"Their presentation in the New Zealand pavilion will continue to build on our reputation as a country that has a potent, relevant and perceptive visual arts community."
Eighteen proposals were received for New Zealand's presentation at the biennale.
They were assessed by a Selection Advisory Panel, chaired by Arts Council Chairman, Dr Dick Grant. The panel was unanimous in its selection of Denny and Leonard.
The Venice Biennale involves more than 80 countries and attracts over 30,000 key international curators, critics, collectors and artists to the three-day Vernissage (preview) period alone.
This year's representative was installation artist, photographer and sculptor Bill Culbert, with his piece Front Door Out Back, which attracted widespread national and international acclaim, and has attracted 140,000 visitors to date, the Arts Council said.
- APNZ