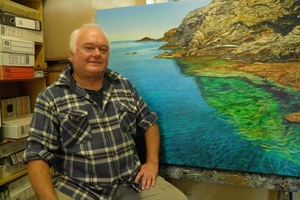 Odds are artist Mark Cross was among the oldest at a recent concert in Auckland by American nail-hard metal rockers Tool. More than a decade ago he heard Tool's Enema and was taken by the lyrics: "I'm praying for waves ... flush it all away."
They related to conversations he was having with the American writer Brad Matsen about cycles of extinction.
Taken together they lead to Cross' large painting Global Enema (Noah's Extinction Event) in which a Poseidon-like figure "Matsen" seems to be rising from clear blue water. Rendered in Cross' distinctive realism, the work has a political subtext, more subtle than his powerful Oppenheimer with its reference to nuclear weapons and the dark vision in Leaf Gatherers in the Season of Entropy about fossil fuels.
Elsewhere in Cross' near-30-year catalogue are paintings of unusual rock formations on Niue where he has long had a home and studio, stark landscapes which may - or may not - be the Kaipara near his other home in Riverhead, and mysterious photo-realist works which require intense reading.
A decade ago Herald art critic T.J. McNamara wrote Cross was "New Zealand art's most gifted outsider", a description he accepts.
"Because I'm not on the inside," he laughs as we sit in his Riverhead studio before a new work destined for Pierre Peeters Gallery in Parnell, which is his sole representative here. He jokingly refers to the gallery as a "transit point" before paintings go to European art fairs, galleries in Zurich and Mykonos on Greece, or to private collectors.
"I've never been taken up by [the art establishment], mainly because I'm self-educated and haven't come up through the networks and university. There's a price you pay for that, but also I'm more free and paint whatever I want."
Cross says increasing acknowledgment of Maori and Pacific artists has made people realise there were other traditions parallel to the accepted in New Zealand art: "I'm like that, I work parallel. But everyone who's written about my work has always been off track. New Zealand art is predisposed to create an identity and they've tried to read my art the same way. It can be done if it's a New Zealand landscape, but my ideas are universal and any identity aspect is incidental.
"Because I live on Niue they think all my figures are Niuean. The ones who realise I'm not doing that [specific identity] thing ignore me because it's universal. That's the sense I get."
A trained toolmaker who initially painted for his own pleasure - "adolescent surrealism, but they have a realistic rendering of sorts" - Cross went to his wife Ahi's village of Liku on Niue in 1978 at age 23 and, over four years, taught himself painting and art history from whatever resources he found. And he was struck by the density of the forest, the clarity of the unpolluted ocean and the light.
Where previously he pulled ideas from his imagination, now he had concrete images to work from which stood between surrealism and heightened realism. Although he continues to paint landscapes (often from photographs he manipulates so the works are not literal), paintings with figures can consume him for a year. While a landscape series can convey an idea, he believes one of his better figure paintings can be read like an exhibition in itself.
Dividing time between Riverhead and Niue - usually eight months on Niue although he's more productive in Auckland: "mosquitos up there!" - may sound glamorous but each can be claustrophobic. He likes arid places but at Liku he's in bush and Riverhead has no view.
"When I'm here I go to the Kaipara because you can see a long way. Except for looking at the ocean, in Niue you can't see distance."
A keen cyclist, he joined a group five years ago on a 13-day ride from Lhasa in Tibet to Kathmandu. Some of the landscapes he photographed are making their way into paintings, but manipulated to negate geographical specificity.
"[Cycling] gets mundane but in terms of plodding on it's a good discipline. It's the same with my work, it's a bit of a grind at times."
A selection of recent paintings by Mark Cross is at Pierre Peeters Gallery, 251 Parnell Rd, before being exhibited in Barcelona and Greece.