Art Basel Hong Kong Art Fair has launched in recognition of the importance of the Asian art market. Richard Dale was there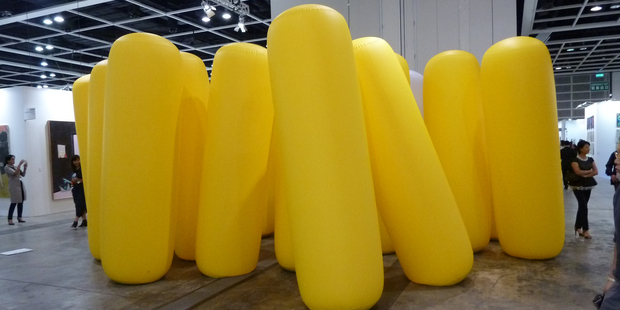 Art Basel Hong Kong Art Fair May 2013; Periphery by Seung Yul Oh.
If you have visited Hong Kong recently, you may think its art consists only of inflatable sculptures. A widely publicised giant rubber duck floated in the harbour around Kowloon. In West Kowloon, seven oversized air sculptures were on show in an open-air exhibition curated by former Auckland Artspace director Tobias Berger - including a Paul McCarthy inflatable of dog droppings almost the size of a two-storey building - and at the Art Basel Hong Kong Art Fair, Auckland-based artist Seung Yul Oh showed two dozen 4m-high air-filled inflatable tubes.
I visited Hong Kong for possibly the largest exhibition of contemporary art in the city, the launch of Art Basel in this region. Art Basel, the world's premier art fair, is held in Switzerland, with a second fair in Miami. Now it has moved into Asia by taking over the Hong Kong Art Fair, expanding and rebranding it with the Art Basel livery.
This move is a recognition of how important, and large, the Asian art market has become in the world economy, particularly with China's ascendancy. Half of the 245 galleries in the fair were from the Asia or Pacific regions, while a number of European and American dealers have had a presence in Asia since the 1990s.
I expected to see some of the world's leading dealers and there they were, with booths occupied by Pace, White Cube, Marian Goodman, Gagosian, Leo Castelli, Lisson and David Zwirner.
The fair was the biggest exhibition I have seen: more than 2000 works spread over two floors in the immense Hong Kong Convention Centre. It took me from the opening in the morning until the close at 9pm to see about 70 per cent of the show, and I was going fast.
I thought that Yul Oh's installation, Periphery, went to the heart of this very European event. Most of his floating tubes were yellow, surrounding a few white ones in the middle. By emphasising binary colours it suggested something about the politics of race and also commented on the commercial forces at play: inflation as a literal analogy for the market? At the same time, his was one work at the fair people had the most fun with. Initially upright and in tight formation, by the end of the day the tubes were more deflated and random after being pushed, hugged and walked through.
Periphery was part of the Encounters section of 17 installations and sculptures selected by top Japanese curator Yuko Hasegawa. Much larger than the usual art fair scale - they were described as "institutional" - you could find these works in intermediary spaces in the hall, in the wide corridors between the long rows of booths, adding a biennale feel to the fair.
The rest of the show provided a pressure-cooker snapshot of what is in circulation in the market globally. Inevitably, you got big names from the 20th-century canon - Picasso, Rauschenberg, Morandi, Miro and Warhol - and heavy hitters from today's global scene: Liam Gillick, plenty of Anish Kapoor, Damien Hirst and Takashi Murakami, a surprising number of photos and videos from performance artist Marina Abramovic, and Chinese stars Zhang Huan and Zhang Xiaogang.
British artist Rachel Whiteread showed a resin door in delicious transparent pink. My favourite was a suite of Kara Walker works, two walls of mordant black silhouettes pillorying pre-Bellum slave illustrations. Another curated section, Discoveries, was intended to introduce a new generation of emerging artists, the ones to watch, and then there were the few hundred or so artists I didn't know showing cool work, from Mexico to Japan.
Basically, the fair was a crash course in the global scene.
Japanese art star Yayoi Kusama stole the show, with major works at various booths, from early paintings of the 1950s to two of her latest pumpkin sculptures with dots. After day one, we were told a Kusama had achieved the highest sale, US$2 million ($2.5 million) for Flame of Life - Dedicated to Du-Fu, from 1988. By the end of the week even higher sales were recorded.
If this event is about anything, it is the market. This made the decision by Auckland gallery Starkwhite to show Billy Apple so smart. Senior New Zealand artist Apple has made the transaction and distribution of art the subject of his work for the last 30 years. Here he showed the Immortalisation of Billy Apple, a conceptually tight project that builds on the Apple "brand", registered as an artwork and involving his DNA. One of the few booths given over to a single artist, it nodded to the Asian context by pairing a painting in English, The artist will live forever, with its Chinese translation. Starkwhite is making traction in Asia and attends Hong Kong and Shanghai regularly. Co-director John McCormack commented that this strategy works for the gallery. "You feel like you are in your area", he said, compared to the American or European markets. When I asked how it went with Apple, he said they had achieved "a good outcome". With Art Basel's level of uber-branding, the fair is on the sort of scale to attract serious collectors and curators who appreciate the sophistication of Apple's project.
From Singapore to Seoul, there is intense competition between cities in Asia wanting to take the lead culturally. Hong Kong is positioning itself. In addition to Art Basel, the city has a massive building programme planned for a lot of new institutions. The West Kowloon development in Victoria Harbour will see 17 venues built over the next decade, with a new museum of contemporary art, called M+, as its centre. Its director will be ex-Tate Modern director Lars Nittve; the architects, just announced, German firm Herzog + de Meuron.
Hong Kong is following the Sydney Opera House model of civic development: put your city on the world map by creating a striking piece of new architecture in the most visible spot. Nittke says M+ will rival the New York Guggenheim.
Art Basel Hong Kong Art Fair will run May 15-18 next year; M+ will open in 2017.
• Richard Dale travelled to Hong Kong courtesy of the Hong Kong Government.