Funded by the European Union to the tune of $140 million, a deft bit of reinvention has turned France's drug and crime epicentre into the nation's Capital of Culture. Jenna Hand goes along for the ride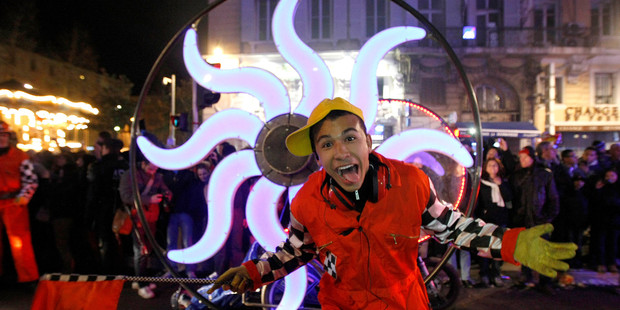 At the lowest point in my trip, I'm standing by the side of a coastal road attempting to hitch a ride for the first time in my life. I've spent the past two hours trying to get to a spot overlooking the Mediterranean just south of Marseille where there's a much-hyped art installation - a thousand musical instruments played only by the breeze - but it isn't the bus system's finest day.
The installation, Harmonic Fields, is part of a vast programme of exhibitions and events celebrating Marseille's year as a Capital of Culture - a European Union initiative with a $140 million budget for everything from hipster food vans to orchestral performances. Ten new cultural spaces have been specially built for MP2013, as it's known (the "P" stands for Provence), and nearly 400 events are expected to attract 15 million visitors.
Not many artists could say their work stops traffic but Pierre Sauvageot's does, on this cloudless Saturday. Cars returning from Harmonic Fields have clogged the narrow street, which might explain the wait for a bus. I watch as another frustrated sightseer walks to the side of the road, arm extended, and almost immediately scores a lift (the child by his side might have helped).
Emboldened by his success, I decide to give it a shot and ferret around in my bag for what I think will make a clever prop: the event brochure. I stick my thumb out and sort of raise my eyebrows in a friendly question to approaching drivers. With each advancing car comes renewed hope, then deflation. Maybe the eyebrow technique isn't ideal. In any case, I don't last long. When the bus returning to Marseille shows up, I call it a day.
Back in the centre of town, people are out enjoying the sunshine. At the Old Port, the masts of hundreds of yachts form a gently undulating ikebana. Tourists at outdoor cafes squint in the glare while across the road, stallholders at the fish market spruik the morning's catch: iridescent sole, slippery turbot and orange molluscs the size of 50-cent coins. Camera-wielding travellers snap shots of a fleshy woman scaling bonito but she doesn't seem fussed by them, or the silvery flecks of fish skin landing on her bosom.
In the early 20th century, Marseille was the hub of France's colonial empire and one of Europe's busiest ports. But decolonisation prompted an economic downturn and by the 1980s it had developed a reputation for corruption, drug-trafficking and violent crime. Baptiste Lanaspeze, who runs a publishing house and has written two books about Marseille, says it was a city in decline.
"In the early 1990s, everything was dead in Marseille, but then there was a cultural shift. Marseille became suddenly cool - in a Harlem, Bronx, kind of way -thanks to hip hop group IAM, filmmaker Robert Guediguian and novelist Jean-Claude Izzo.
"People began to understand that culture was important for the future of Marseille, because there was no big economic project and there was no hope of it becoming a big world harbour again. So it was very important for us to get the title of Culture Capital. It was a reward for 20 years of effort."
I meet Lanaspeze in Martigues, a seaside town about a 30-minute drive from Marseille. It's also a key point on the urban hiking trail he devised for MP2013. The 365km Grande Randonnee meanders through sun-baked cities, industrial zones and rural areas dotted with lavender and olive plantations, and conveniently meshes with the public transport system.
"This crazy, insane metropolis is full of nature but also refineries, old abandoned plants and chemical-polluted soils, then suddenly you'll come across an ecological reserve," he says. "It's a crazy mosaic of the industrial and natural, so it was the perfect place to invent this new kind of hiking trail."
But it's not walking that brings me to Martigues, rather, eating. Paysages Gustatifs are a series of elaborate picnics that tie in with the Grand Randonee and showcase regional produce. When I arrive, local chefs Pierre Giannetti (of Grain de Sel restaurant) and Xavier Zapata (Les Pieds dans le Plat) are zipping around making the final additions to 200 small crates of foraged fare on a patch of land overlooking an enormous inland sea. I snatch a word with Giannetti and ask if the herbs were hard to find. "Non," he says, indicating what look to me like weeds growing all around us. There's a gazpacho of peppery sea fennel and mussels, a fillet of fish and a soup-like concoction of garlic, smoked mullet and green stuff reminiscent of broccolini, among other goodies. It's a refreshingly broad interpretation of "culture".
So too is Buzz Booster, the hip-hop competition my friend and I check out in the trendy Cours Julien area. We show up in time to see Yoko, a group from the Rhone-Alpes region, pulling off some slick moves to go with what sounds like an impassioned commentary on something serious. Whatever they're saying is too rapid-fire for my high school French but it goes down well with the hoodie-clad audience.
There's quite a different crowd at the FRAC, an airy gallery designed by Japanese architect Kengo Kuma. Opened to much fanfare earlier this year, it features contemporary art ranging from the thoughtful to the bizarre.
One memorable work is Marseillais Fouad Bouchoucha's Paysages Topographique, an installation so startling that a sign warns visitors with heart problems against entering the smoke-filled space in which thunderous booms randomly sound. FRAC director Pascal Neveux is delighted at the boost the Culture Capital title has given the museum and says it has had 17,000 visitors in three months, more than it would typically receive in a year.
The influx of culture-seekers is set to continue until the end of the December, but many locals hope the massive investment in cultural infrastructure cements their city as a destination for the arts beyond 2013. They'll do even better if they can get that bus system sorted out.


June - December highlights
MuCEM
The new Museum of European and Mediterranean Civilisations, incorporating a 12th century fort and modern pier, will house exhibitions exploring the shared history and culture of the Mediterranean.
From Van Gogh to Bonnard
This exhibition at the renovated Palais Longchamp with more than 100 masterpieces. June 13-October 13.
Five Continents Jazz Festival
A 10-day musical extravaganza at the Palais Longchamp. July 17-27.
Mediterranean Banquets
Top chefs will prepare dishes reflecting the region's culinary history.
Industrial Night
Martigues' industrial zones will get a temporary makeover with walking tours, plays, concerts and huge light projections on the sides of factories. August 31.
Picturesque picnics
The chef-catered Paysages Gustatifs continue on June 30 and September 15. You'll need to book to get a hamper.
Metamorphoses
Artists from 15 countries will turn Marseille into a playground, transforming markets into ballrooms, streets into imaginary art galleries and building a 300m dining table for a neighbourhood meal. September 20-October 6.
Centre Pompidou Mobile
Works from the famous Paris gallery's permanent collection - including by Matisse, Picasso, Calder and Leger - will come to Aubagne in the form of a travelling museum. November 2013-January 2014.
More information and tickets: mp2013.fr