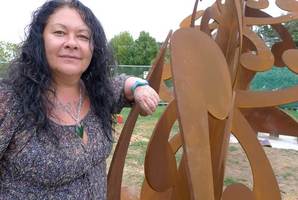 Hamilton arts supporters are getting used to having to fund new public works themselves.
When a sculpture - Te Waharoa ki te Ao Maarama (The Entranceway to the World of Enlightenment) by Lonnie Hutchinson - is unveiled on Monday near the central city lake, it will mean about $600,000 of donated money has been put into public artwork.
A philanthropic public art group, named MESH, is behind the artwork. It has already handed over Te Pumanawa o te Whenua - Beat Connection, a contemporary interpretation of the human heartbeat made from stainless steel. Beat Connection sits in the grounds of the city's new multi-million dollar Claudelands Events Centre.
Chairperson of MESH, Nancy Caiger, also president of the Waikato Property Investors Association, says the concept is a major shift in thinking for arts funding in Hamilton and encourages a move towards a more philanthropic era within the region.
"While our first aim is to help create greater vibrancy in the Hamilton area we're conscious of being another touchstone for the city's development and signal of economic prosperity.
"The reality for Hamilton is that it does not have the extent of 'old money' enjoyed by Dunedin, Christchurch, Wellington and Auckland. The biggest economic growth and advances for Hamilton has been in the last 20 to 30 years whereas the other main centres can look back a 100 years. What we have seen in recent times is the emergence of very successful businesses and individuals in and around our city that are ready to make significant contributions back into the community. MESH is very much part of this story," says Ms Caiger.
The value of the first two works to be funded by Mesh in Hamilton is $600,000 and the team at MESH envisage taking the total value of works gifted to the city to over $1 million over the next couple of years.
MESH has around 70 private donors covering a varied cross section of the community, from which it has raised a large proportion of its funds. A significant contribution came from the Brian Perry Charitable Trust. Several local businesses have come alongside through partial or full pro-bono services.
With Hamilton City Council currently debating whether to cut arts funding, the donor approach is timely. Council is currently debating whether to move $30,000 of the city's public art fund toward litter collection in the CBD. It would leave arts with $22,000 for the 2013-2014 year.