Dionne Christian looks at different ways to celebrate the Islands' culture in this most Pacific of cities.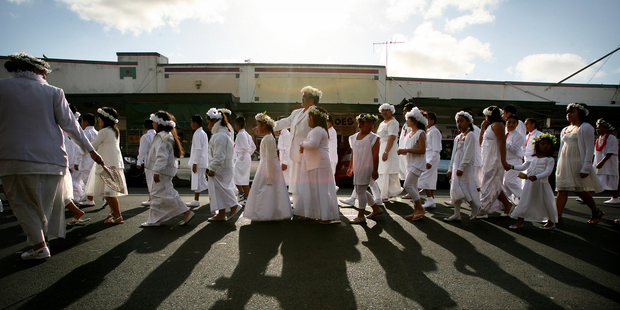 Auckland's biggest cultural celebration, Pasifika Festival, turns 21 this year. The new-look event has expanded to two days, under the creative direction of the clever Stan Wolfgramm.
It means even more people can enjoy the festival's bustling market, traditional foods, arts and crafts, and cultural performances.
The 10 villages this year showcase the cultures of the Cook Islands, Fiji, Kiribati, Niue, Samoan, Tahiti, Tonga, Tokelau, Tuvalu and Aotearoa.
Each villages features traditional tattooing, carving, craft and dance, with a focus on cooking demonstrations and food stalls. The villages will be complemented with pan-Pacific areas.
For the first time, the festival will include a multi-denominational church service, on the Prosperity Stage on Sunday morning (9-10am), with the theme "One God, many nations". For more, see aucklandnz.com/pasifika/
But how can you keep the Pacific vibe alive after Pasifika leaves Western Springs?
Auckland Council has declared March to be "Pacific As" and is highlighting a range of cultural and sporting events throughout the month. Throughout the region you'll find touches of Pacific culture which influence the way we live, and create a distinctive Auckland style. Here's our pick of the places where you can experience the Pacific vibe in March and through the year.
Dance
Do you want to siva Samoan-style or hula like a Hawaiian? Then you'll need to take a Pacific dance class.
Pacific Dance New Zealand was set up as a professional body to foster the development of the Pacific dance sector in this country, but demand soon came for kids' classes.
The Newton-based school now teaches Tahitian dance and Siva Samoa, drum and dance, and Siva Afi (fire dance) for young people, plus professional development classes for the more experienced.
This month, it presents Moana - a Pacific dance showcase, with some of the best up-and-coming contemporary Pacific dancers in Auckland.
The performances are at TAPAC (The Auckland Performing Arts Centre), from Wednesday, March 20, to Saturday, March 23. For more, see pacificdance.co.nz or call (09) 376 0060.
Today, you can join dance classes at TAPAC to learn basic moves of Samoan (10.30am) and Tahitian dance (3pm), tomorrow it is hula (10am), Taupou Siva Samoa (11am) and advanced Tahitian (1pm). Email manager@polynesian entertainers.com or aruna@ thehulajourney.co.nz to register for the hula class. Finish on Sunday with a free open studio with Polynesian entertainers. Classes range from $20 to $35, pasifikasway.com or polynesianentertainers.com.
In Onehunga, Hawaiki-Nui Waika Polynesian Dance has Tuesday evening classes at the Onehunga Community Centre, where beginners, intermediates and advanced dancers from 2 years old and over are welcome. For more, contact Inna.Schwalger@ gmail.com or call 021 029 85883.
There are free Pacific dance funk classes in the courtyard at the Mangere Arts Centre Nga Tohu o Uenuku every Wednesday, from 1.30-2pm. In June, the Okareka Dance Company, featuring Tane Meete and Tai Royale, performs there, and in October the company runs a weekend workshop.
Look out for the Siva Afi international firedancing competition from Tuesday, December 3, to Tuesday, December 10. The Mangere Arts Centre is on the corner of Bader Dr and Orly Ave, Mangere.
For more details, call (09) 262 5789 or see aucklandcouncil. govt.nz/arts
Waka ama
Sport in New Zealand has benefited from the introduction of new sports from the Pacific, such as waka ama (outrigger canoe) racing. Tahiti, Hawaii and New Zealand have the world's top-ranked teams.
There are now clubs up and down the country, with a large number in Auckland, under the umbrella of national body Waka Ama (Nga Kaihoe o Aotearoa).
Chief executive Lara Collins says by joining a club, you get access to the type of waka needed for the sport, plus you can hire paddles. Watch 1600 students from 90 schools paddling in the NZ Post National Secondary School Waka Ama Championships at Tikitapu, Blue Lake, Rotorua, from March 19-22, the Air Tahiti Nui Aotearoa Aito on March 16, at Kohimarama, or the Tauranga Harbour Challenge on Saturday, March 23.
The Great Waka Ama Race, from 11am on Saturday, April 6, is an epic competition with 18 university teams paddling from Okahu Bay to Kohimarama and back. For more on these events or to find a club near you, see wakaama.co.nz
Drama
The world's first Pacific Island musical, The Factory, is on at Q Theatre as part of the Auckland Arts Festival, but there are more Pacific plays to come this year.
The Pacific Institute of Performing Arts holds dance and theatre shows in April, May, June and August. Its graduate show is in November. The Brownies Theatre Company presents Le Mau the Visitor from May 29 to June 8, while the Kila Kokonut Krew, who created The Factory, is back from July 24 to August 4.
Rotary joins the Mangere Arts Centre from September 16-21 to present Showtime Mangere, the culmination of two months of performing arts workshops. Then, in October, Auckland Theatre Company presents Niu Sila by Dave Armstrong and Oscar Kightley, from October 15-25.
History
The Auckland War Memorial Museum is home to some of the world's most important Pacific collections. During March, discover the traditions and meaning behind Pacific adornments in Adorning the Pacific Trail, part of the Taonga Trail, through the Maori and Pacific galleries.
Related events include an interactive tour with Pacific art specialist Kolokesa Mahina-Tuai on Wednesday, March 20, from 11am-12pm; master Samoan carver Tufuga Tuailevaoola will be at work on Saturday, March 23, from 11am-3pm, in the Pacific Lifeways gallery, and the Diamonds of Paradise Tongan brass band and tatau dance group perform in the museum's atrium on Saturday, March 23, 3-4.30pm. The museum is open daily from 10am-5pm and is free for Aucklanders. See aucklandmuseum.com.
The Voyager Maritime Museum is the place to go to discover more about the Polynesian people's epic journeys across the Pacific to Aotearoa, starting with the animated film Te Waka: Our Great Journey, which tells the story of how Pacific people made their way to Aotearoa 1000 years ago.
Meanwhile, Landmarks of a great voyager: Nga tapuwae o Kupe brings Auckland Te Papa's exhibition of the Polynesian voyager's New Zealand connections, using photographs and video recordings. The exhibition is on until November 17. Voyager Maritime Museum is open daily from 9am-5pm. See maritimemuseum.co.nz
MusicHot tickets in the next few weeks are Sounds Aotearoa, an indigenous music expo at the Aotea Centre/Festival Club from March 10-11. For more, see aaf.co. nz/events/sounds-aotearoa.aspx
The finalists for the 2013 Pacific Music Awards will be announced at a live showcase in the Pacific Crystal Palace, Aotea Square, on Monday, March 18. The awards are on Thursday, May 30, at TelstraClear Pacific Events Centre, Manukau. For more, see pacificmusicawards.org.nz.
The final weekend of Auckland Council's summer Music in Parks series starts on Saturday, March 23, at Mangere's David Lange Park, when contemporary R'n'B favourites Adeaze perform. See musicinparks.co.nz
In October, Manukau Symphony Orchestra performs We Are Pasifika, led by composer and conductor Opeloge Ah Sam.
Church and community choirs will perform alongside sopranos Daphne Collins and Rejieli Paulo and baritone Eddie Muliaumaseali'i on Saturday, October 19, from 7pm at TelstraClear Pacific Entertainment Centre. For bookings, call (09) 268 9911 or (09) 577 3031, or email manukausymphony@xtra.co.nz
Sail by the stars
Learn the techniques Pacific peoples used to make their way across vast and often stormy seas, with a spot of star-gazing at Auckland's Stardome Observatory celestial navigation evening on Tuesday, March 26, at 8pm.
Recommended for ages 12 and above, it looks at sailors' traditional navigational techniques to find their way to land, using stars and constellations. Tickets are $25. For more, see stardome.org.nz or phone (09) 624 1246.
Polyfest
It's big, it's bright and it's loud!
The ASB Polyfest will this year feature about 9000 secondary school students from 59 schools performing on the Cook Islands, Maori, Niue, Samoan, Tongan and Diversity stages at the Manukau Sports Bowl, Te Irirangi Drive, from March 13-16. For more, see asbpoly fest.co.nz
Shopping
When it comes to shopping Pacific-style, most people will be tempted to head to the Mangere or Otara Saturday morning markets. Both of these offer the chance to buy Pacific foods, arts and crafts, beauty products, clothing and jewellery at reasonable prices.
In Otahuhu, the Great South Rd shopping strip features numerous Pacific-style fashion stores where bright and colourful dresses hang from shop awnings. There are island-style food outlets, including The Hangi Shop at the top of town, Pasifika barbers, beauty stores and music shops.
Or stock up at the final day of the Pacific Showcase at The Cloud (10am 5pm) for culture, food, design, and performance all under the one roof. pacificshowcase.co.nz .
Visual arts
The Corban Estate Arts Centre houses the Pacifica Arts Centre, home to the Pacifica Mamas. It runs workshops, classes and special events all year with the most popular being carving, weaving and tivaevae (Cook Islands traditional quilting). The Corban Estate Arts Centre is on the corner of Lincoln and Great North Rds, Henderson, call (09) 838 3205, email pacifica.arts@xtra.co.nz or see pacificaarts.org
Across Auckland, galleries hold regular exhibits of work by Pacific artists. Tautai Contemporary Pacific Arts Trust supports Pacific artists. Its website tautai.org lists upcoming exhibitions, news and events.
Until April 27, the Gus Fisher Gallery has More Than We Know, where artists Jeremy Leatinu'u and Kalisolaite 'Uhila delve into and present their takes on the building's history (it's at 74 Shortland St). The exhibition is complemented by street-side dance, performance and spoken word presentations running weekdays until March 22, from 5-5.30pm and on Saturday, March 16. Open Tuesday to Friday, 10am-5pm.
Phone (09) 923 6646 or email gusfishergallery@auckland.ac.nz
Libraries
Auckland libraries are using Pasifika week to showcase Pacific stories and legends, books, CDs, DVDs, language learning tools and travel guides within the collections, giving Aucklanders a chance to connect with communities, and highlight Pacific family history. Events include Auckland Museum's Leota Alice Meredith talking at Manukau, Manurewa and Te Matariki Clendon libraries, Mbrace Pacific Dance Company performing at Clendon library, and St Joseph's School ukulele group at the Grey Lynn library. Go to aucklandlibraries.govt.nz