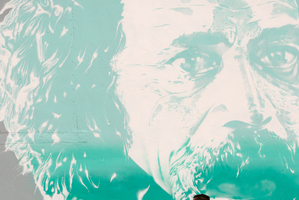 Artist Ralph Hotere, who died last week, has been immortalised by a street artist in Auckland.
Graffiti artist Elliot O'Donnell - known as Askew One - revealed the finished work on the side of Kingsland shops yesterday.
It depicts Marti Friedlander's well-known portrait of Hotere, but interpreted in aqua-green and white.
O'Donnell, who has been working on the mural this week, has been keeping his fans updated via Twitter. "Thanks everyone. Amazing!! Glad we can do this and honour one of our greatest artists."
He later admitted, however, that a few people had mistaken the painting for another well-known person.
"Been complimented for my 'cool picture of Einstein' twice this morning."