Parnell galleries host artists whose inspiration and technique varies greatly.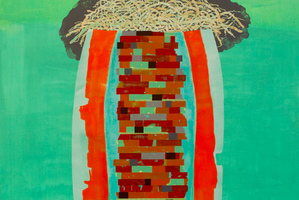 Interest this week is in Parnell where you can see four exhibitions by artists who differ widely not only in subject matter but also in different expressive techniques. The most refined is by Denys Watkins whose Lost in Space is at Bath Street Gallery. Over his long career his subject matter has always been enigmatic, but the colour, delicacy and visual wit of his images has been much admired, especially by fellow artists.
There are clues to his inspiration in this exhibition because each painting is accompanied by the cover of a book. Some are collections of poetry, others are philosophy and one, by Arnold Wall, is on New Zealand English.
Buddhism and Zen from The Wisdom Library is alongside a delightful work called Wisdom and Misconduct. This has a pale blue wash subtly varied so it suggests a serene space. Through this space an equally pale pillar rises that hints at a phallus. Poised on top of this is a twist of intense russet, tan and black colour. This loose rope of ribbons is a strong but complicated irrationality. The contrasting colours are striking and the painting, which has considerable delicacy, also has strong carrying power.
Part of the skill of the paintings is shown in a variety of intricate tangles of tape such as crown a stack of shapes in No Ordinary Sun and Meat Science. Aging bones occur as a humorous indicator of history in several works.
Lawrence Ferlinghetti's best-selling book of poetry, Coney Island of the Mind, plays its part in setting the tone. The painting with that title is a combination of loose, emotional moments and mathematically precise shapes, some of which contain intricate mechanisms all surrounding a great yellow-green cloud of the spirit. It is elegant, witty and leaves plenty of room for personal interpretation.
After a long absence from the scene, Harry Wong had an exhibition last year of abstract paintings done on the back of perspex. This gave a high polish to the surface and their large size and framing made every piece a spectacular object. The same techniques make a sonorous impact in this show, Coastal Rhythms at Pierre Peeters Gallery, but the paintings are now of recognisable coastal subjects. The formal abstract quality is still present and gives life to the work, notably by the curved and rhythmic shapes of sand, coast and waves all done in the bright clean colour.
The high-toned colour is a feature of a tall work titled Muriwai. This is not so much a picture of the long beach but an analysis of it based on colour harmonies. The foreshore is notable for two shades of green: a lighter one for cleared areas and a darker, richer one for forested areas. The nature of the beach sand and an intersecting creek is indicated by three carefully calculated shades of brown, while the sea is sharp areas of blue.
These colours and the surface of the work combine to make a grand object equalled by the even taller shape of Ninety Mile Beach. Headlands Far North in a wide frame of green and the square of Piha do not have quite the same presence. Pacific Harbour, which has a figure dissolving in the sea and sky, is work in progress. The show as a whole has an outstanding individuality and force.
A third exhibition is Still, Still Life by Siavash Momeny at Artis. His technique is minutely realistic and he applies his talent to newsprint and rubbish.
Objects wrapped in newsprint, a feature of his earlier shows, work best with a large figure entirely covered in newspaper. It makes a solemn idol that suggests a person preoccupied by the news to the destruction of his individuality.
Sharp observation and precise rendition of discarded timber gives more to provoke thought in the Inorganic Collection paintings featuring a discarded old-fashioned tennis racquet and toys, than in Demolition Sites which have less varied material. The principal impression the viewer takes is marvelling at the time and skill needed to show detail rather than any depth of concept.
Ray Haydon is a sculptor who is the master of loop and twist. In steel and wood he has made wall and freestanding sculptures which, though static, swerve and fold in space.
In his show at Sanderson Contemporary Art he has examples of this work but also others that take movement a stage further in new kinetic works. These are made with boatbuilding skills using polished black carbon fibre. They are jointed and light enough to turn in the wind. The outstanding work is Vela, which raises expectation that the shiny wings must clash - but the exact balance means they never do.