He may be one of New Zealand's best-known and honoured actors on stage and screen but Alan Perrott discovers George Henare is also one of the most modest.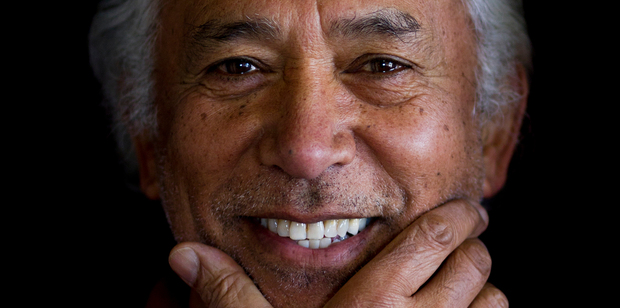 It's Mercury Theatre Company's 1990 production of Hamlet and George Henare is dishing out some pain to his "son", fellow actor Simon Prast. It was the first time the two actors had met onstage and one that Prast will never forget.
"It was just thrilling," he says of Henare's performance. "The whole time, part of me was thinking 'you're so f****** good ...' It's this effortless beam that flows out of him."
Prast copped it again a few plays later. This time the actors were on opposite sides of the stage, awaiting their entrance. Henare was playing Friar Laurence in Romeo and Juliet and, with the play approaching its tragic end, everyone had their game faces on.
"Then I looked across and George had lifted his habit up and was waving it about," says Prast. "Luckily he was wearing some briefs underneath ...
"But that's George, it's his life force, the sparkle in his eye. For all that talent, and it's a world class talent, I've never detected a world class ambition. I think it's the work, the doing of it and the company he enjoys along the way. They are his rewards."
In a craft rampant with ego, emotion and self-promotion, this 66-year-old is as close as you get to being universally admired and loved. He seems to feature in everything except gossip and has even knocked back the offer of a knighthood. Even his dad gave up demanding he get a real job to celebrate his actor son.
Which may be why he remains as in-demand as ever: already this year he's appeared in four plays, a musical, and enjoyed mainstream attention for his role on Shortland Street. His dance card for next year is rapidly filling as well.
But for now, he's reading and re-reading the script to Death of a Salesman for an upcoming season at Auckland's Maidment Theatre. It might be the third time he's performed the play (the last time was six years ago and it won him New Zealand Actor of the Year), but each reading still brings tears to his eyes. By the time he's ready, he will know Willy Loman inside and out. Again.
We're lucky to have him really. Actually, that's not quite right. We have him because of the simple fact that while he could get work anywhere, he's happy here. Why look for new pastures when you get to become someone different every few weeks? He's lived in the same small Grey Lynn flat for the past 32 years and as long as he's working, all he needs is the occasional gin and tonic, people to study, and a constant flow of cryptic crosswords. You can sometimes spy him at a show, sitting in a dark corner with a 1000-yard stare as he ponders 6 across.
As a full-time performer of one kind or another since 1965 who's played hundreds of roles, read hundreds of scripts and seen hundreds of shows, it takes something very special to hold George Henare's attention.
To begin with he'd thought that very special thing was God.
As the third youngest of 10 children, he was often lost in the crowd. So the chance to swap life on their East Coast farm for boarding school promised liberation.
Once he got to Gisborne Boys' High, he set his sights on carrying the cross during church services. His enthusiasm earned him the job of head server. "And you've never seen a more pious-looking head server in your life," he says.
But his career prospects in that arena ended when he figured out that the attraction hadn't been due to any calling, it was the performance.
Henare had discovered the power of committing to a role even if, for now, he considered himself more as a middling singer - music was big in the Henare home - and found a new home in on a school production of Pirates of Penzance.
Unsure of what to do when he finished school he started teacher training, a course that also provided singing lessons and gave him the confidence to audition for various productions.
But his prospects seemed limited until after a particularly bad day of dealing with stroppy students, he turned up to an audition with a devil-may-care spirit and scored a spot in the chorus for Porgy and Bess.
This taste of the stage immediately relegated teaching to second place and Henare found himself involved with several companies, getting £18 a week and touring places such as Japan and the Soviet Union.
Which isn't to say he'd become worldly. Henare didn't even get drunk until he was 22, and even then wasn't too sure what he should drink. He turned up to a party with a bottle of port because that was what they imbibed at church. All was well until he got up, fell over and slept for a few hours.
He tried using cigarettes to boost his cool until one of his brothers saw him and laughed that he wasn't even inhaling it. So he gave up.
His switch to acting was pushed on him when his directors tired of their chorus member who couldn't help playing up to the audience. So, he was reasonably primed when in 1969 he got a single scene part in Awatea, his first drama, and met stage actor Russell Duncan.
"He turned me around, looked me in the face and asked me who my character was. What does he eat? What does he wear? Who are his friends? I'd never been made to think like that before - I'd been doing comedy - so that really piqued my interest. From then on I didn't want to be a singer, I was going to be an actor."
The clincher was in the faces of the audience. Words have power and he began to enjoy how they could be used to make people cry, laugh and gasp: "There are real messages in these plays, they have impact, and I think that was when the techniques started to come through."
One that has served him best is his entrance. He pauses, just long enough for the audience to see and "embrace" him. Only when he feels a connection will he set about his work.
For a while he used meditation to put himself in the correct mental state, now he opts for a personal philosophy based on mindfulness and being present in the moment.
But at the most basic level, acting just seemed more attractive to Henare. After a few years inside the buttoned-up opera scene, he admits that hanging out with all those jeans and leather jacketed boho actors appeared way more rock 'n' roll.
So, in 1971, the 25-year-old left Wellington to join the Mercury Theatre Company in Auckland, where among all the high-faluting Shakespeare and Chekhovs, his childhood experience as a two-legged sheepdog was put to good use in two seasons as Snoopy.
Henare was also getting into television, including the role of Hone Heke in the four-part series about Sir George Grey.
By 1983, and not yet 40, he was considered a veteran on the New Zealand stage. To mark his 100th Mercury role that year, someone totted up his stats and found he'd died 414 times, played six kings, worked under 15 different directors, and fallen asleep on stage once (while playing a bedbound paraplegic).
Two years later, The Young and the Restless soap star Jamie Lyn Bauer topped all that by breaking a bone in his hand during a fight.
The pair were starring in the confrontational play Extremities. Henare played a stalker who tries to rape Bauer's character, but she turns the tables to brutally beat, blind and scold her assailant before hiding him in the fireplace.
At one point she threw a kick when she should have punched and Henare - who was playing blind at the time - didn't see it coming.
"I do hope he's forgiven me," says Bauer from her Los Angeles home.
Extremities was only her second play and she ignored her doctor's advice (she had a case of glandular fever at the time) to fly out for the three-week stint.
"I had no idea what to expect, but it turned out to be one of the memorable things I've ever done. George, I knew he was quite famous there and some actors can be, well, obnoxious. But he had all the class of Vincent Price, a true gentleman. His presence is just profound, he can say so much with the tiniest of movements, and I can't remember if I told him or not, but he taught me so much and he was just fabulous to work with."
Getting an OBE (Ordinary Brown Entertainer, according to Henare) in 1987 certainly elevated his status - in his father's eyes anyway. Not that he ever told Henare directly, but his siblings reckoned it was all he could talk about for a while.
The 90s were a much bigger challenge. Short of work, Henare was forced to skip back and forth to the Gold Coast to work on shows like Lost World and Beastmaster.
"I remember hoping this stuff never got to New Zealand," says Henare. "Then my niece rang me up to say she'd seen one ... oh well. But I loved the fact I could work overseas and still live here. It meant I got to work with the Melbourne Theatre Company twice."
During one stint they asked for him to fill out a CV for a programme thinking he might have done 40 or so plays. They told him to stop when he reached 300 and then chopped it down to a few lines so he didn't outshine their lead, Warren "Alf Garnett" Mitchell.
Henare has lost count of how many plays, television shows and movies he's racked up in the past 47 years. He could go through the drawerload of reviews he's collected - only to see if the reviewer picked up on what he was trying for mind - but he's not one for retrospection.
Instead, he sees each new project as an opportunity for improvement. Woe betide anyone who says he's hit his peak - that's a place he says he won't reach until he's completed his study of the human condition.
"That's really why I love this job, I'm a great observer of people. I want to know why we react in certain ways, what it is in our backgrounds that makes us behave in other ways, why we leave and why we stay. It all goes into my work.
"I think my friends understand it, they're in the mix as well." At least one is being folded into Willy Loman.
Even family tragedies help inform Henare's darker roles. An audience recognises a fake instantly, he says, so the best way to present sorrow and grief is to have experienced it first hand.
Both his parents are now dead, his father in 1991 on the day Henare was supposed to be opening and starring in Amadeus, and on both occasions while he grieved, part of his brain recorded and analysed everything that happened around him. "These are moments when our reactions come from a deeper core. After all these years I'm now in a place where I don't care about how much of that stuff I reveal, even if most of it stays in the rehearsal room. In the end you just have to open yourself up and be real."
But there is one group he struggles to understand - the "look down generation", those who sit on the bus, walk around town, and eat with their eyes locked on to the screens of their iPhones or whatever. It just isn't real to him.
Henare doesn't even own a computer.
He doesn't drive either. It's not because he prefers the view from the passenger seat, he's been told more than once that the roads are safer without him.
In contrast, he's one of our safest pairs of hands on stage and adding his name to a bill gives a show instant credibility.
Take the Newmarket Theatre Company. They were the newest kids on the block and anxious to start with a bang, so signing the country's leading stage actor for their debut effort, Educating Rita, two months ago was a huge coup.
"It meant the show sold itself," says production manager Sharu Delilkan, "it's instantly taken seriously. And he's the consummate pro, he brings this incredible calmness, like he's got everything sorted from the moment he arrives."
Following his character from initial baby steps in the rehearsal room to opening night turned into Delilkan's own education. "To start with, it's like going through the motions, then when he finally gets on stage you see it in his eyes - 'watch out, you haven't seen this yet'. How he built that part through the show, it was just amazing to see, he never overplays anything or goes over the top, he just nails it. I watched it four times and every time it was 'wow'."
She was even more stunned when he gave her a thank you card.
"I was just gobsmacked, my mouth dropped open. Suddenly he went from being George back to George Henare again. I showed it to all my friends - don't tell anyone that."
As for how long he'll continue, Henare simply says as long as possible. "There are only so many cryptics you do."
Besides, says Prast, he still has plenty to offer. "Now I don't want to make him sound like St George, there is an earthiness to him, but when you see him give a performance and then the audience kind of just sits there, stunned, then they come to, before breaking out in applause ... That's greatness."
Death of a Salesman is at the Maidment Theatre, Auckland, from October 11-27.