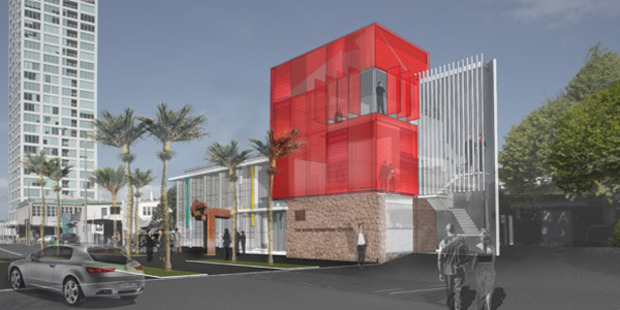 Promoters of a red glass exhibition centre for Takapuna have three months to sharpen a business case which calls for $5.3 million from ratepayers to get it open in 2016.
The estimated capital grant to a museum-grade exhibition centre is based on a $14.5 million staged project - with the rest to be raised from charitable and corporate sources.
The new figures for the project came as a shock to Devonport-Takapuna Local Board members.
Board chairman Chris Darby said yesterday that a more rigorous business case was needed to earn any level of ratepayer support.
"Also, probably the biggest risk for Auckland Council is not the capital outlay; it's always operating expenditure that needs year-after-year support."
The business case report written by BBrink consultancy suggested an annual council grant for operating expenses of up to $785,000 in 2016, when the centre is planned to open.
Board member Joseph Bergin said he tried to have the project scrapped.
He said the report was commissioned by the Shore Exhibition Centre Trust from a $300,000 grant from the former North Shore City Council. But after three years, the trust had not secured anything more than an endorsement in principle from the Takapuna Beach Business Association.
The report suggested the council was up for almost 90 per cent of running costs and that the project had a number of risks.
The trust has four board members, Genevieve Becroft, Ruth Ell, Dugald Page and Christopher Johnstone, and has $260,000 in the bank.
Mrs Becroft said the board was asked to endorse a bid for council finding and to approve a fixed-term three-year lease on the former Takapuna Library - an empty building of a classical design at No 2 The Strand.
"We will fundraise to get extensions by building up two storeys with a beautiful little tower. It looks red because it's glass. You don't want the UV rays coming in on paintings but you can see out and, it's rather jolly."