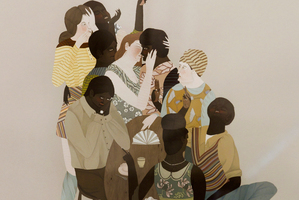 Exact detail does not concern many painters. For many it is broad expressionist attack that matters while others concerned with geometric abstraction try for wide elegant surfaces. A large part of the unique effect of the fascinating exhibition by Kushana Bush at the Pah Homestead is the enormous proliferation of tiny detail, which means the paintings demand long and careful scrutiny to extract all the delightful and sometimes disturbing images in them.
The technique of the work is unusual, done on pale grey paper in gouache, an opaque watercolour medium and in pencil. Bush was the prestigious Frances Hodgkins Fellow in Dunedin. In a previous exhibition in Auckland her work had repetitive patterns of repeated human interaction but this expansive show has much more intensity and variation of responses and tensions between people.
These people are of all ethnicities though there is a feeling many are Hindu. This is because the style of the work is much influenced by Indian miniatures, as well as a number of figures having the kind of curling moustache common on men in Indo/Persian painting.
This is not the only influence. Bush is acutely aware of art history and takes subjects from Western painting from Giotto to Manet. Her subjects can be as traditional as a Pieta or a group of Romantic nude odalisques yet she is capable of painting a work that contains over 60 completely contemporary figures, all individual characters in Fighting Boys.
What is common is fascinatingly varied and beautifully painted fabrics. Everything is flat on the page and this allows wonderful colours and patterns to be displayed, such as the blue birds on a blue ground in Pieta, which is based on Michelangelo but is a man mourning a male stretched across his lap. Despite the opulence of his robe he wears modern laced canvas boots. There is also a fine blue fabric that falls into rhythmic folds in a delicious work titled The Dance (after Matisse).
Shoes and sandals are recurring details subtly emphasised in many of the works. Also appearing again and again is a curious circular wristwatch with a black band.
Fighting Boys is one of a number of complex triptychs composed as arcs and triangles across the three sheets. Most intriguing of all is Sleepers with Lobsters, a multi-racial orgy with a mass of women sleeping or ecstatic, menaced by red lobsters which they embrace or caress. The lobsters are potent notes of red arranged throughout the work and can be aggressive when reaching a claw to nip a breast.
The Throat of Summer is another triptych full of people embracing cut flowers. Nearly two dozen exquisite vases, each one totally different, are arranged across the work. Delicate still-life can be added to the virtues of the painting.
In Bush's work, the virtues exist alongside oddities. One such is the prominence in the small mouths of sharply delineated teeth. This detail is also found in the work of Suji Park at the Ivan Anthony Gallery. She also uses elaborate fabric patterns but they are directly painted on small figurines, mostly shown in pairs.
These little sculptures are generally of women in long Eastern dress and the way they have been squeezed and modelled from the clay is evident. The element of clay is also emphasised because some of them take on vase shapes with strange heads topping the form which often bulges out into a base. There is a deliberately primitive quality to these little statues and no attempt to hide cracks and imperfections left by the firing.
There is nothing of the sweetness of form such statuettes often possess but the subtle tiny patterning on the forms is often rich and intricate with, perhaps, a remote ancestor in the Art Nouveau paintings of Gustav Klimt.
There is a note of preciousness in the silver face of a work such as Ajani, one of those with the strange teeth. Strange or not this first exhibition by Park is almost a sell-out.
Another exhibition where the works are crowded with detail is Mautakere by Chris Heaphy at the Gow Langsford Gallery. These impressive paintings on a large scale are mostly ritual circles. Elements such as heads are repeated around the circle, as well as design motifs with a strong Maori influence.
Where the patterns release open spaces, individual images - mostly of islands - take significance from their ritual surroundings.
The circle composition is modified in a huge painting that gives its name to the exhibition. Here the islands are included in dense patterning that forms both the wings of a butterfly and a stylised Maori head. The butterfly motif is continued in two highly coloured paintings which are spectacular but do not have the sharp, detailed intensity of the symbolic works, which are exceptionally strong.
At the galleries
What: All Things to All Men by Kushana Bush
Where and when: Pah Homestead, 72 Hillsborough Rd, to July 1
TJ says: A remarkable, cosmopolitan exhibition by Kushanna Bush, from Dunedin. Its individuality comes from the intensity of its tensions and the sharp edge of its fine details.
What: Former Things by Suji Park
Where and when: Ivan Anthony Gallery, 312 Karangahape Rd, to June 2
TJ says: Strange, macabre statuettes often in pairs or shaped like a vase, pitted and marked but notable for finely painted decoration.
What: Mautakere by Chris Heaphy
Where and when: Gow Langsford Gallery, 26 Lorne St, to June 9
TJ says: Chris Heaphy continues his potent ritual circles filled with repetitive, precise images, which encompass islands and richly coloured butterflies, all endowed with a strongly Maori sense of the past.