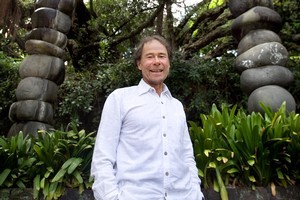 Chris Booth says investors from around the world are being considered for the work but he would 'love it to be built in New Zealand'. Photo / Natalie Slade
Environmental artist Chris Booth wants to create a "living sculpture" under Albert Park as a central Auckland tourism attraction, if he can get financial backing.
His idea is for a 250m-long tunnel that people can walk through and see a series of 30 fissures growing fungi and the lower plants - mosses, ferns, liverwort and algae.
Along the tiled passageways, they will encounter a 30m high underground "cathedral" chamber with a vibrantly coloured suspended vertical garden sculpture.
Another of the naturally-lit chambers would hold a 16m-tall mamaku tree fern.
"The whole thing is a sculpture inspired by root systems of ferns," said Booth in a talk to Auckland Council's economic forum.
He is asking the council for a venue for his work, ideally Albert Park which he says is "riddled with tunnels".
One of his big public sculptures - the park's Victoria St gateway of boulders - frames some of the entrances to a system of air raid shelters excavated during World War II.
The Kerikeri resident said investors were needed for a feasibility study which would give an estimate of the project's cost.
He is a member of England's Eden Project, which was keen for him to create the feature using fungi and lower plants but due to the recession could not get enough private funding.
Billed as a "living theatre of plants and people" the Eden Project pulls a million visitors a year to a former quarry in Cornwall.
Booth said he had worked on plans for five years in consultation with engineers, botanists and scientists.
"We are looking at investors throughout the world in Singapore, United States and China but I'd love to build it here."
"It would be an addition to Auckland's tourist attractions and right in its CBD."
The sculpture would send out an environmental education message.
"The little plants are the most vital plants for the survival of the planet."
Booth's public works include Matauri Bay's Rainbow Warrior Memorial and Paihia's entranceway. Economic forum chairman Arthur Anae said Booth's idea had "huge potential".
However, councillor Christine Fletcher said she respected Booth's work but had to say the council was unlikely to have spare money to put into the project.
Auckland Council owns the sealed 3500m complex of tunnels and in 2001 achieved an act of Parliament to allow them to be leased for excavation and commercial purposes.
Art project
250m long tunnel where people can walk through and see in a series of 30 fissures growing fungi and the lower plants
30m high underground "cathedral" chamber for a vibrantly coloured suspended vertical garden sculpture
3500m the complex of tunnels is owned by the Auckland Council
20,000 people can fit in them in the event of an air raid over the central city.