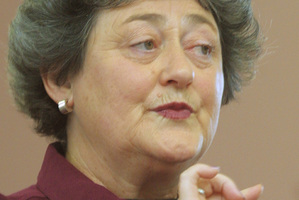 Stars of stage and screen will fly in to pay tribute to the modest Kiwi vocal coach and mentor who helped put them on the map.
For decades, Janice Webb has inspired singers on to the world stage and television.
In return, a star-studded tribute concert called SING featuring 20 of her star pupils is being held in Auckland next week, to mark her 70th birthday.
Performers such as TV actress Lisa Chappell and platinum-selling classical singer Will Martin will perform at the Bruce Mason Centre in Takapuna next Sunday.
"I would not be who I am today, professionally, or personally, were it not for the tutelage and mentorship of Janice over the formative years of my career," Martin said.
McLeod's Daughters star Lisa Chappell said Webb was a shining example for young performers to look up to.
"Jan is an exceptional teacher, friend and human being."
Webb, a former singer and performer, said it was her love of the vocal instrument that put her on the teaching path.
"The voice is the only instrument you have to build, the only one you can't buy another of and the only one you can't see. It's unique to each of us — it is soul-baring, and I love it."
Webb added that she was humbled at being honoured by so many of her former students for their 70th.
"I am blown away that all of these people have re-scheduled their very busy lives and careers to come and perform at this event."