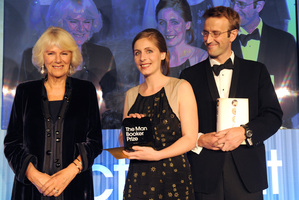 Keri Hulme
The Bone People author
New Zealand's first Booker prizewinner, Keri Hulme, was home in the small West Coast settlement of Okarito this morning when news broke that the country had a second winner.
Hulme and latest winner Eleanor Catton share another unique tie; the sometimes bleak West Coast landscape sings from the pages of their books.
Hulme's novel The Bone People won in 1985 - the year Catton was born. Hulme has lived in Okarito since the early 1970s.
When she won the Booker prize she already had a couple of significant awards under her belt, and unlike Catton - who was in London to hear her name read out this morning - Hulme said she was in the United States doing a tour in association with the Pegasus medal.
She said The Luminaries would raise the profile of New Zealand literature.
The Bone People fell off the New Zealand bestseller list in January 1986, not for lack of interest, but because the publishers had run out of copies.
It has now sold more than one million copies and been translated into nine languages.
Lloyd Jones
Shortlisted for the Man Booker in 2007 for Mr Pip
It is fantastic news - it's astonishing that a 28-year-old would win, it's a great achievement. It is terrific for her because it launches her into the world in the most secure way possible - usually it takes just about a lifetime of production to get to that spot. She has kind of emerged almost ready-made; she is a prodigy, a bit of a golden girl ; she is very down to earth and very intelligent and a completely committed writer; it says something about her drive and commitment to her craft that she was prepared to chain herself to her desk for as long as it took to produce a work that long.
I am really thrilled for her and god, it's about time we won something.
Jenny Pattrick
Writer of a series of historical novels set on the West Coast gold and coal fields
I am halfway through reading the book; she is a very clever writer. I can't believe she is so young, to be able to write with such maturity. Her writing style in this book is quite like Dickens; I am particularly thrilled because it is a historical novel set on the West Coast; her historical research is impeccable and her language is lovely.
It is wonderful for her at this early stage ; let's hope it is also wonderful for NZ writing and books altogether, that it will give our writers a much-needed boost on the international scene.
Emily Perkins
Montana Book Award-winner
I think a lot of people will be reading The Luminaries over the summer.
She is an extremely poised person - I don't want to speculate about how she might be feeling but I think she is a really brilliant writer, she is full of big ideas and a really original thinker.
Some writers, like Eleanor, have that gift of disappearing and what appears is something entirely else, it's an art; it is beautiful to experience as a reader because it gets you away from the business of who wrote this.
It's a form of vanishing and transformation as much as it is of creation and it's wonderful to be in the experience of that as a reader.