Graham Reid gets his fill of fine food and fascinating art on an uncrowded island.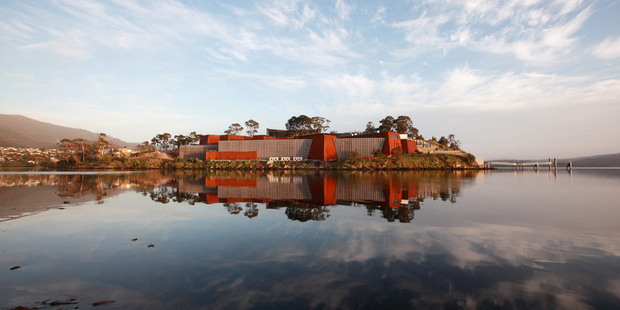 The most recent edition of the best-selling book 1000 Places to See Before You Die by Patricia Schultz includes two places in Tasmania, both of them natural wonders. That's understandable because Cradle Mountain and Freycinet National Park are commandingly photogenic.
But here's a bet. The next edition will include a most unnatural wonder, the extraordinary subterranean Museum of Old and New Art (Mona) on a peninsula in the River Derwent just outside central Hobart.
Dug down three massive floors into sandstone and rock, the privately-owned Mona - which opened in 2011 as Schultz's book was going to print - is full of challenging art and installations, some rude or confrontational, some by big names, such as Picasso.
If the art is the drawcard, the visitor is just as likely to come away in awe of the engineering and construction of the galleries where sheer walls of rock soar dozens of metres above or below the walkways and floors.
The museum also has a fine-dining restaurant, cafe, a vineyard and an onsite brewery. Its accommodation is typically quirky. The carpet in my room read in big letters "apropos of nothing it's nice to have you here and thank you, we need the money". Yep, Mona is undoubtedly one of the places to see before you die.
The art - and Hobart itself - are worth the day-long trip to get there.
Tasmanians like to say they have exciting weather so, depending on when you go, be prepared for rain as much as sunshine, and the shimmering sun-glinted harbour to be backed by snow on Mt Wellington, where Aboriginal people and Charles Darwin once walked.
Increasingly gentrified and interesting Hobart might currently be riding on the back of Mona's international reputation and notoriety, but around Sullivan's Cove old shops and warehouses which once served the shipping trade have been renovated. Many are now swanky dealer galleries, cafes and restaurants. And local artists have their work everywhere.
Once considered a cultural backwater, Tasmania has leaped ahead in the past decade and Hobart boasts a compact and lively arts scene. It is home to the excellent and recently renovated Tasmanian Museum and Art Gallery and there has been a long tradition of art in the city, much of it centred on the harbourside Salamanca complex which houses small galleries and artists' workspaces.
Low-rise Hobart has an almost unnatural number of artists, many from the local art school, which has a cool, bohemian feel, and their work is highly visible. But there's also the Teddy Bear Shop, the Faerie Shop, the Stamp Place, Sidewalk Tribal Gallery (ethnic work from Africa and Aboriginal artists) and other quirky diversions.
Hobart does style well, too: there is award-winning dining along Elizabeth Street Pier and the acclaimed Prosser's on the Beach at Sandy Bay, where there is also the Point Revolving Restaurant for cocktail-hour views.
The island is increasingly going organic and that spins off into local wines. The Tasmanian Wine Centre in Collins St is a must-stop, or take one of the boutique wineries tours which stop at Mona, for their excellent selection.
Hobart can be done on a budget (there are decent and modestly priced hotels) and the archetypal Aussie corner pubs serve hearty fare.
With the many recent books on Antarctic exploration attention has also fallen on Australian explorer Sir Douglas Mawson who left Hobart in December 1911 on a voyage of incredible hardship, including 160km travelling alone. His name is given to Mt Mawson, a popular skifield northwest of the city.
But a statue on the foreshore acknowledges an even earlier Antarctic explorer. In 1898-99, the scientist Louis Bernacchi was the first Australian to winter on the ice.
This small discovery is emblematic of a city full of surprises, interesting colonial history ... and art you really have to go some way to avoid.
CHECKLIST
Getting there: Qantas flies daily from Auckland, with connections to Tasmania via east coast airports.
Online: See discovertasmania.com.au.
Graham Reid travelled to Hobart with assistance from Tourism Australia, Tourism Tasmania and Qantas.
Find out more at Australia.com