Nothing is sacred in a provocative new Mike Kelley exhibition that celebrates a major new art space.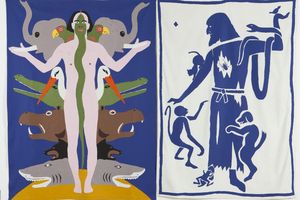 A retrospective exhibition of work by Mike Kelley, at the Stedelijk Museum in Amsterdam, celebrates the opening of the museum's new wing.
The Stedelijk has always been a great showcase for modern art on a wide field. Even 40 years ago, a comprehensive knowledge of post-war American art could be gleaned from its collections. It was closed for nine years but re-opened last year with a startling new wing.
The wing is boldly attached to the older part of the building, with no attempt to unify the two stylistically. It has been compared to a vast bathtub because of its polished-white enamelled exterior, which at one end slopes rather like a bath, then extends to a driving, ship-like form. It has a wide, unsupported roof that extends over the approaches to the gallery, smoothly integrated into the windowless form.
The visitor enters under this huge white canopy, while the doors of the older part are left as raw portals into the permanent collection.
The new wing has allowed development of space below ground, and two new wide floors, which are given over to the exhibition.
Kelley was regarded as the outstanding artist of his generation in the United States. His death last year, by suicide at the age of 57, makes this huge exhibition particularly poignant. The show includes more than 200 works that demonstrate that he was the epitome of a modern artist.
Much of the work is paradoxical and defies accepted values. The pattern was established when the artist was young. Encouraged by his father to take up sport, Kelley took up sewing instead.
There is no single theme or motif in all his work.
His tremendous talent is manifest in drawing, painting, sculpture, installations, found objects, recycled material, video and photography.
Nothing is sacred: he moves easily from philosophy to social issues, to the fears of childhood, to the value of excrement.
He incorporates comic-book images, carpets, toys, crockery, broken glass, posters, newspapers, jewellery and fire-extinguishers to express his vivid emotional response, and not just for visual effect. His work is shot through with humour and irony.
When you enter the show you are confronted with two banners made in 1967. One shows a human figure surrounded by patterns of animal heads - crocodiles, bears, wolves and sharks - and the figure is wrapped in a snake. The work is called Animal Self. The other half of the work has a priest-like figure surrounded by happy creatures. This is Friend of Animals. The work is a mild start.
Nearby is a mattress with bright patchwork, surrounded by teddy bears and other soft toys joined in ways that make them strangely unnatural.
A further exploration of childhood fears is a video of a boy at the barber shop. The barber enters, wiping his sweaty hands.
The cloth around the boy's neck is tied too tight and the barber cranking up the chair is as menacing as the approach of a torturer.
Then your eye might be caught by a series of drawings that show movement in a raw and powerful way. They are called Garbage Drawings and evoke mess of every kind. Another huge drawing, Trickle Down and Swaddling Clothes, shows excrement from one figure decorated and garlanded with bows by a second person.
Much of the drawn and painted material is tight, formally organised and accompanied by an elaborate text.
Next you might encounter an installation about attitudes to work.
In a large enclosure, Bugs Bunny comic animals complain about work. Around the top of the enclosure, in classical lettering, are invocations to work.
At the centre is a stylised fist like a socialist symbol. This enclosure is linked across a corridor to a door that says, "Employees Only". The door has been liberally kicked.
Between the enclosure and the door is an image of damned hard work. It is an immense log with bars attached for lifting. The whole is memorable, however ambiguous its message. It is titled From My Institution to Yours.
Modern art is seldom confrontational or vituperative, but Kelley worked constantly in that manner.
A poster that starts innocently with, "The biggest mistake the Clinton administration made was not to implement their health care policy", rapidly becomes a wild and fantastic rant against celebrities.
A great deal of the work is black and white, but the traditional skills of draughtsmanship, colour and paint-handling come into operation in Pay for your Pleasure, a corridor of 43 portraits of artists, poets and philosophers.
Each comes with a savage quotation that shows their attitude to life. It is an intense and moving work, done with great skill.
The exhibition goes on and on. There are huge constructions of fake pearls and buttons of broken crockery, while caricature is everywhere. It shows so many possibilities that it is clear why Kelley was so influential.
One piece, Kryptonite, is an oxygen cylinder with a hose to a big glass bell-jar. Within the jar is a gloopy mass.
The show is as powerful as Superman's sustenance, but much more subversive.

For gallery listings, see nzherald.co.nz/arts