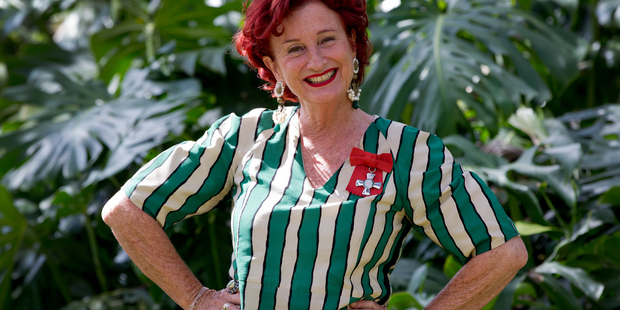 Peta Mathias may now wear a medal on her chest but the vibrant author, chef and television presenter still doesn't cast a shadow on her mum.
"I'm very proud. But she's not going to upstage me," Ann Mathias said at her daughter's intimate investiture ceremony at Government House in Auckland this morning.
Mrs Mathias, who travelled from Sydney with her husband Harvey for the event, smiled widely as she hugged her daughter, who has been made a Member of the New Zealand Order of Merit.
Mrs Mathias wore her own medals, accolades for her services to the Royal Australian Navy during World War II.
"I've been trying to upstage my mother my whole life. But I haven't quite focused on the medal situation," Ms Mathias said.
"My new goal is to last as long as she has. And I've got time to get more medals.
I hope the Governor General's hearing this."
The ceremony to honour Ms Mathias for her services as an author and presenter was brought forward from the scheduled investiture ceremonies because of her overseas travel commitments.
"[I feel] extremely special. I'm so glad I was unavailable," Ms Mathias said.
She spends from May to November each year in the south of France where her culinary work is based and where she has just bought a house.
After years spent living in New Zealand and renting in France, she decided it was time to sell her Grey Lynn home and buy a house in Uzes.
"I bought a little house, it's a do-up. I haven't seen it ... I bought it from my agent who sent me a photograph," Ms Mathias said.
"It's a dump."
Renovating the French home will be central to memoirs Ms Mathias is writing, which she said had the "very charming" title of Never Put All Your Eggs In One Bastard.
"I'm writing a book which is a memoir but it's hung around this story of selling a house in Grey Lynn and buying a house in the south of France," she said.
"It goes back and [looks at] why would you do such a mad thing at 63 and it goes back and questions why I always had to move around so much; why I always had to do risky things."
That risky life has won her considerable praise, epitomised by today's ceremony.
Ms Mathias is a multi-award winner for her culinary work, including gastronomic travel books on Morocco, France, New Zealand, Ireland and Vietnam.
She has presented food and travel shows and written social commentary on life for men and women in the 21st Century, such as Can We Help It If We're Fabulous?
Presenting the honour today, Lieutenant General Sir Jerry Mateparae said it recognised "commitment, perseverance, passion and compassion".
"Ms Mathias, we have been privileged to hear your story. You have set a fine example that inspires, encourages and motivates others," he said.
"Your character and commitment has brought us together today.
"Your contribution has enriched the social, cultural, economic and culinary tapestry of Aotearoa-New Zealand."
He said the honour was not diminished because it had not been awarded at the typical ceremonies for those on the Queen's Birthday and New Year Honours lists.
- APNZ