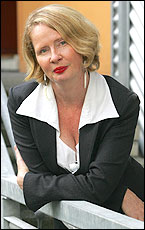 It is not surprising that a girl who grew up in a leprosy settlement in Zambia, the slums of the Solomons and Haiti, and went to school only in brief snatches, would become a ground-breaking social historian.
Professor Joanna Bourke's parents were "medical missionaries". Her father sought out the neediest places on earth, then took his wife and five children along too. Her mother ran the family; they both preached Christianity.
And after they'd finished their New Zealand Correspondence School lessons, Bourke and her two sisters and two brothers helped nurse their playmates who were suffering from diseases "that didn't even exist in the West".
Possibly the lack of classroom schooling was a blessing. It gave them time to read, to observe, to think for themselves.
"We all flourished under the correspondence system," Bourke says in her low, slightly whispery British accent, laced with the rolling Rs of Ireland and the odd flat vowel, courtesy of New Zealand.
How did these five children end up? Two sisters are primary school teachers and now run large families in Auckland, one brother is in Geneva, also teaching, and her second brother is a computer imager in Melbourne.
And Joanna, the second-eldest, is a social historian at Birkbeck College, University of London. Her seven books including An Intimate History of Killing:Face to Face Killing in 20th Century Warfare (1999); Fear and Anxiety:Writing about Emotion in Modern History; Dismembering the Male, have earned her an international reputation for exacting research and fresh, take-no-prisoner opinions.
Next on the timetable is a study of rapists in the the 19th and 20th centuries. The working title is Rapists: A History and it is due out in the middle of next year.
So why did a 42-year-old woman who held dying Haitian children in her arms when only a child herself, get into such subjects as the brutality of war and why men rape?
Simple. "It's just interesting," says Bourke, who looks and sounds the opposite of a conventional military historian. "These are topics that women don't tend to work on. I'm interested in the people who do these things and what makes them tick."
She is clearly prepared to challenge the perceived wisdom, and will do so with academic thoroughness that has confounded her critics. Yes, she says, "there are often 100 footnotes to a page, but there has to be otherwise I'm going to be attacked".
Rapists: A History, "is clearly edgy stuff", she says. The last book on rape, in the 1960s, was Susan Brownmiller's Against Our Will, which concentrated on victims.
"It's time we looked at the problem. The problem is not the women, the problem is the boys."
Although attitudes and excuses have changed, the problem has not. "In the 19th century rapists tried to pretend their victims were prostitutes by leaving money." Today, says Bourke, rapists try to force their victims to say they're getting pleasure from it. "At exactly the same time that feminists were saying rape is about power not sex. Rapists say it's about sex not power. And I just don't think it's a coincidence."
Without doubt her book will attack "the [80s] feminist version of rape: that all men are rapists, rape fetishists or beneficiaries of a rape culture." (That is, men who like their women "locked up in their homes", too scared to go out by themselves in case of attack, and so only able to go out with them).
"That is not correct and I argue about that."
Bourke is prepared for the fuss this will stir up after the controversy around An Intimate History of Killing which caused consternation in academic circles. Written over three years, drawing on research from the letters, journals and testimony of British, American and Australian men serving in World War I, World War II and Vietnam, her book challenged the myths about how men behaved during war.
Among her findings: Many soldiers committed atrocities; Many got pleasure out of killing.
As Bourke says. "They had to - this was a way of coping with the trauma of killing, of making sense of the situation, not breaking down, and surviving emotionally."
Previously, she says, the wrong sort of sentiments have been censored out by historians, which is dishonest, not just to history, but to the soldiers themselves. Telling it as it was also helps us understand modern warfare better.
"You do a service to them [soldiers] to take them seriously," she says. "They're writing these things. There is a need to relate, particularly to their loved ones, that they have these emotions.
"What infuriates me is the fact that they [other historians] don't take what these men, and sometimes these women, say. 'Oh that can't be true, they're just lying, dissembling."'
Back then "the main atrocity was, of course, the killing of prisoners of war," she says. "I look at complicity, the way the hierarchy basically turned a blind eye to many of the atrocities, and how civilians did as well. In other words there was knowledge of these atrocities."
The big thing that allowed this to happen, she says, was the racial aspect. She offers the war against the Japanese in the Pacific as an example: "It's dehumanising, and so much easier when the enemy is racially and religiously different. 'You're just another monkey,' they used to say.
"Yes, the Japanese were very, very cruel, but we also have to acknowledge our side did commit atrocities."
And, of course, the same things happened at Abu Ghraib prison in Iraq. "Do you know the first thing they did after the scandal came out?" she asks. "They banned all photographs!"
According to Bourke, 1900 images showing torture and atrocities towards prisoners were shown to Congress, but most are too politically dangerous to come out.
What is certain is that there was complicity, both from the military hierarchy and other soldiers. "Some of these photos were taken in halls with other people watching or walking past ... Most people knew serious abuses were taking place."
Which brings us to the Fear and Anxiety book, which concluded that people fight their anxiety of keeping up with the Jones' new plasma TV by going to horror movies to give themselves something to be really scared about. She calls it "the Jones' syndrome".
"Once we worried about being buried alive, now we're much more likely to fear prolonging life beyond pleasure, lingering on in a vegetable state," says Bourke. "They're more internalised fears, about whether we're psychologically normal or need some medicine to make us feel better again."
Reassuringly Bourke is not scary herself.
She refuses to play the academic, laughs often - and at herself - and realised early in her research, something that her academic contemporaries had known for years. "I was a fearless person."
At mid-career, Bourke may be the new face of feminism. Her ideas are no-nonsense and forward thinking. She does not accept much of the dogma of the 80s, instead going back to the source through research.
Seven years ago she was one of only three female history professors in Britain, and the youngest in the country. Now there are three at Birkbeck alone.
Her early influences, apart from her parents and life experience, were the late Professor Keith Sinclair and his wife, Professor Raewyn Dalziel, who taught women's history at Auckland University, where Bourke gained a first class honours degree and a first class masters in history. Dalziel, now deputy vice-chancellor, academic, was, says Bourke, "a great scholar".
For all that, and despite a career that includes academic posts in Australia, Cambridge and Birkbeck in Britain, the Fraenkel Prize and Wolfson History Prize for An Intimate History of Killing and annual visits to Auckland to visit her parents and sisters who live in Howick, Bourke has never been invited back to her alma mater.
Her latest trip, to deliver a lecture on sexual violence in history, was delivered at Victoria University in Wellington. "I'm going to start crying ..." she says with a hollow laugh. "I would love to go back to where I graduated ... but you know, a prophet is not recognised in her own city."
Maybe she is too controversial, too much of an enigma for Auckland. A 2005 photo shows that Bourke has metamorphosed from a shiny faced, earnest looking young woman, dark hair parted firmly, to a foxy blonde, peering archly over her glasses.
"My parents suffer, I think," she says. "They're really proud of me, but I think they'd like me to write a history of love. They're having some difficulty telling their friends I'm writing a history of rape."
Her long-term partner, Costas Douzinas, a legal philosopher and professor of law working in the theory of human rights and famous in academic circles, is understanding. "His is very different from my work," she says. "We have nice disputes - the empiricists versus the theoretician."
The couple spend four months of the year in Greece, switching between Douzinas' houses on the island of Paros and the Acropolis hills in Athens. "My study has the best view in the world" she says.
And of her partner: "He's not only the greatest intellectual but also the most interesting and feminist man I've been lucky enough to meet."
All of which could suggest that Bourke is a little self-satisfied, which she would say is not the case at all.
"What I am is truthful."
By Carroll du Chateau

Email

Carroll