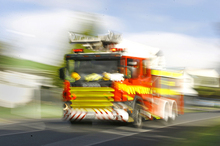 Police and firefighters have joined forces to investigate a series of suspicious fires in Wanganui over the past few weeks.
Acting Wanganui Fire Service area commander Gary Ward confirmed yesterday a senior station officer and fire investigators were liaising with police to ascertain whether there was a pattern between suspicious fires at the Castlecliff Domain last month, Hylton Park earlier this month and two fires on Saturday.
"All these fires are suspicious by nature and we have assigned a senior station officer and the fire investigation unit to liaise with police to see if there is a pattern. At the moment no links have been discovered," Mr Ward said.
At Queen's Birthday the gazebo at Castlecliff Domain was destroyed beyond repair in what firefighters described as a "mindless act", while on July 2 three fires were deliberately lit at Hylton Park, which hosts a public mountain biking track.
The latest suspicious blazes occurred on Saturday when firefighters were called to an incident at a woolstore at the industrial end of Liffiton St at a time when people were heading home from the Border/Ruapehu rugby final at Spriggens Park, and a second at 10.30pm in a storage building on the riverbank side of Putiki Drive.
By Iain Hyndman of the Wanganui Chronicle