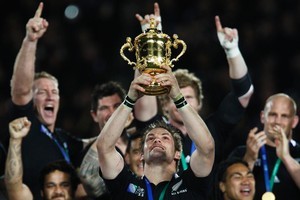 More than half of tourism operators say the Rugby World Cup didn't provide the tourism boost promised, a survey has found.
A Tourism Industry Association New Zealand survey among its members found 46.6 per cent of the 121 respondents felt the tournament period was better or much better than the same period in 2010.
However almost one-fifth (18.2 per cent) saw no change, while around one-third (33.9 per cent) considered the tournament period to be either worse or much worse.
TIA policy and research manager Simon Wallace said the results reflect anecdotal feedback.
"They told us that while operators in the main game centres did well, other regions did not reap as many benefits as they may have expected from fans travelling around the country between games," Mr Wallace said.
"There was also a definite shift with the business end of the tournament moving to the North Island in early October."
The survey also found business related to the cup was not spread evenly among sectors.
The motel sector generally had a rough ride during the tournament as normal domestic and corporate customers stayed away. One business said "we got a few more camper vans for this time of year but our motel and backpacker trade dropped considerably".
Some tourism operators who responded to the survey said domestic tourism was down, games were too far away to provide any significant boost in business, or business dropped off dramatically between games.
However one operator said their turnover for September was up 260 per cent from the year before.
Although the immediate benefits of the tournament were not reaped by all tourism operators, it is believed the long-term benefits will follow.
"The tournament itself was a fantastic success and we have numerous reports of visitors going home to rave about the great experiences they had in New Zealand," Mr Wallace said.
"Word-of-mouth recommendations are the best marketing tool we can ask for, so we are looking forward to hosting many family and friends of RWC 2011 fans for years to come."
Mr Wallace said the survey will help efforts to build on returns for the industry in the future.
"The 2015 FIFA U-20 World Cup will provide a major opportunity to showcase New Zealand to a wide range of visitor markets. We also have the 2015 ICC Cricket World Cup being jointly hosted by New Zealand and Australia."