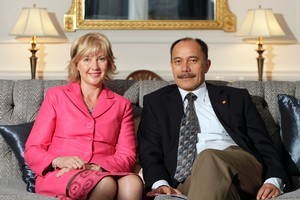 Lieutenant General The Right Honourable Sir Jerry Mateparae has a flash title these days, but he slightly shamefacedly admits standards might be slipping just a bit around Government House.
"I have to wonder what the reaction has been with us wandering round the house in jeans."
Jeans are a crime at the Governor-General's home at Government House - media are sent a dress code specifying in bold "no jeans".
Despite having spent 39 of his 56 years in the military, Sir Jerry doesn't like formality in excess, although his wife Lady Mateparae says he can put on a good show of it "when the situation requires it".
So rather than a full suit for the pomp and ceremony of his swearing-in this week he wore what he describes as a "morning suit type of arrangement" - a jacket, tie and shirt with some snappy striped trousers. It is New Zealand Fashion Week after all.
"I prefer informality. I prefer people to speak their mind and tell me what they think and not what they think I'd want them to think. I'd rather be informal."
He and Lady Mateparae had their first full day of duties yesterday. There was a long series of media interviews - about his new job, but also some uncomfortable questions about his old job as chief of the Defence Force. His interviews coincided with the release of Nicky Hager's book on New Zealand's involvement in Afghanistan during Sir Jerry's tenure as Chief of Army and then Chief of the Defence Force. He rejects the worst of the allegations, and voices his confidence in the integrity of the Defence Force.
He and Lady Mateparae will keep their house on the Kapiti Coast. The two teenage sons who are still "at home" will stay at their schools - one boarding in Palmerston North and the other staying with friends on the Kapiti Coast. The sons are, however, reportedly delighted by the new pad in the city - the lawn is the size of two rugby fields and has already been treated accordingly.
Sir Jerry himself is a big rugby fan. Next week he will help with hosting duties for the Pacific Islands Forum. And then, he points out with some glee, there is the Rugby World Cup.
"That's huge, isn't it? It will be."
He won't even allow himself to have a second favourite team. "I support the All Blacks and the All Blacks." He tries to be diplomatic about other teams but the most he can manage is "I think there are a number of good teams, and one of them will be in the final as well".
Comment on sport is as political as he gets. He has clearly had his duties and the need for separation of powers drummed into him. When he is accidentally called the "Attorney-General" he quickly corrects it: "that's political. I'm not a political actor."
He is New Zealand's second Maori Governor-General. As a child, he was raised by his whangai [Maori adoption] parents, his uncle and aunt, in Whanganui. It wasn't an immersion upbringing - he knows some te reo but is not fluent - but there were regular trips to his marae and his family are Ratana Church morehu [followers].
He was raised to know where he came from. Of the things that stir him and link New Zealanders together, he says it is words only New Zealanders understand. He's not talking about colloquialisms, but "words like 'mana'. If you use that word overseas, you need a New Zealander to explain what it means."
He also cites the haka - in particular the haka at the Palmerston North Boys' High School prizegiving. "It's one of the things that really makes the hair stand up on the back of my neck." There are the All Blacks haka - "yes throwing down the challenge, but also showing huge respect to the opposition."
He also remembers the haka in San Diego when Team New Zealand was returning after winning the America's Cup - "it was met by mostly Pakeha New Zealanders, and what were they doing? The haka".
"It's that thing that unifies."
The former SAS soldier waves at his eye as he says this. "It does bring a tear to your eye. Doesn't it?"
He said his nerves about his current job have largely gone - they've had six months to get used to the idea and no fewer than five previous Governors-General had offered him advice. He won't say what that advice was. Suffice it to say it didn't include "no jeans".