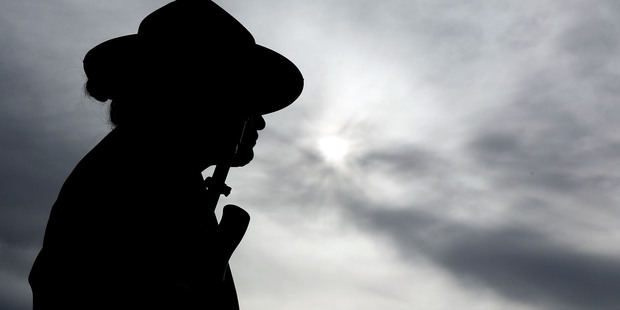 WELLINGTON
Bad weather didn't stop hundreds from attending the national Anzac Day commemorative service in central Wellington today.
Some perched in trees to watch the ceremony at the National War Memorial and hear tributes paid to fallen soldiers as dignitaries, ambassadors and officials sheltered under their programmes from pounding rain and gusty winds.
Governor-General Lieutenant General Sir Jerry Mateparae, Prime Minister John Key, Wellington Mayor Celia Wade-Brown and Labour MP Iain Lees-Galloway were among those to attend.
They, along with foreign dignitaries and officials laid wreaths at the memorial.
Sir Jerry said New Zealanders had served beside Australian allies for 98 years.
"Sharing Anzac Day means we look across the Tasman in a spirit of mateship and shared sacrifice, just as our soldiers did during the first world war."
He also paid tribute to "respected enemy", the Turks.
In 1934, the Turkish President Mustafa Kemal Ataturk wrote a tribute to all allied soldiers, including those who died at Gallipoli, Sir Jerry said.
"He assured their grieving mothers that their sons were 'now lying in our bosom and in peace ... After having lost their lives in this land they have become our sons as well'."
This year marked the centenary of the last year of peace before two global wars in two generations "enveloped our world", Sir Jerry said.
In a statement, Mr Key said soldiers who left to fight in World War I could not have foreseen what their sacrifice would come to represent for New Zealanders all these years later.
"Each year we pause on April 25 to remember those young men who scaled the cliffs at Gallipoli, and all New Zealanders who have served in wars around the globe since.
"And we say thank you to those brave Kiwi men and women who are still serving their country overseas at this time."
World War I remained one of the most significant events in the country's history, with more than 16,000 New Zealanders killed and many more injured.
Mr Key said during that war the spirit of the Anzacs was forged on the foreign battlefields.
Youth representatives, Nickolas Miskimmin, from New Zealand, Elizabeth Hargan from Australia and Bartu Karalar from Turkey, gave readings at today's service.
Australian and New Zealand flags were lowered to half mast.
Earlier, hundreds of veterans marched in central Wellington as the firing of a gun heralded the dawn.
Thousands turned up to the Cenotaph for the dawn parade about 5.30am.
Defence Force vice chief Major General Tim Keating said, for a small nation, New Zealand had always answered the call to defend freedom and protect the vulnerable.
Recently, troops had been pulled from conflict zones, such as East Timor and Afghanistan, he said.
They had performed missions "that made us proud" and had made a difference to the lives of those living there.
He spoke about the morning of April 25, 1915, when excited young New Zealand and Australian troops landed on the shores of Gallipoli with "bullets crashing around, held by an enemy they had never seen".
The Western Front claimed 1200 New Zealanders, and 2700 New Zealanders were casualties at Passchendaele, he said.
Wellington RSA president Conrad Flickenberg said people had gathered to think of the soldiers who went to war but never returned.
"It is fitting that we should keep this dawn vigil together in remembrance and gratitude. We feel them still near us in spirit."
AUCKLAND
Thousands marched through the gates of the Auckland Domain and to the cenotaph outside the city's museum today - lit up in the colour of a poppy.
The weather cleared for the Anzac Day dawn service where veterans were applauded and fallen soldiers were remembered.
"The cost and horror of those days still haunt us as a nation," Royal New Zealand Navy chaplain Colin Mason told the crowd.
"May the memory of their lives inspire us by the dreams they had for their land."
Mayor Len Brown said today was a chance to remember the 18,500 New Zealanders killed in the Great War, including the more than 7200 from the Auckland province, one third of which have no known grave.
He told the crowd it was "such a huge sacrifice for such a young country".
"We gather to remember the bravest of the brave. The men and women ... who made the ultimate sacrifice," Mr Brown said.
"We embrace them in our hearts."
It is the first Anzac Day since the final withdrawal of troops from Afghanistan.
"We are grateful for your contribution and we will always remember the 10 New Zealanders who made the ultimate sacrifice [in Afghanistan]," Mr Brown said.
He said those who fought to "defend the ideals of justice and freedom" should be remembered before the Australian and New Zealand national anthems played.
As the flags were lowered and soldiers stood to attention to the sound of the Last Post, parents lifted their children onto their shoulders for a final look at the veterans before the cenotaph fell into darkness for a minute's silence.
Veterans were applauded as they marched away to the sound of bagpipes.
When the service ended some people took photos in front of the cenotaph, others placed down their poppies while some sat quietly on the wet steps.
"May the dreams of those who fought and died not diminish but flourish," Mr Mason said.
CHRISTCHURCH
About four thousand have gathered in the dark at Cranmer Square in Christchurch.
A mixture of people, including Scout troops, school children, and families, watched dozens of veterans march into the inner city park, some with family members or friends.
The NZ Army Band played them in, with the crowd clapping.
Christchurch Mayor Bob Parker said the city had made a commitment to those young men going off to war nearly a century ago that they would never be forgotten.
Brian Shanklin, president of the Malayan Veterans Association, said New Zealanders have been fighting since the Boer War for the "principles and freedoms we have inherited".
Master of ceremonies Paul O'Connor paid tribute to the 2721 lives lost in the Gallipoli campaign, as well as the 10 soldiers who recently died in Afghanistan in what was one of the longest deployments in New Zealand military history.
Wreaths to remember the fallen were laid at a temporary cenotaph which was topped by a wooden cross carved by Urban Search and Rescue experts from timbers recovered from the earthquake-crippled Christ Church Cathedral.
White crosses marking the war dead caught the early morning light.
Squadron Leader Patrick Hoare of the RAAF, representing the Australian government and people, asked the gathering to pray that the past soldiers' sacrifice may not have been in vain, and that in due season, their everlasting memorial may be in "Peace on Earth and good will among men".
After a haunting rendition of The Last Post, and a fire of volleys, Reverend Father Dan Doyle said, "We will remember them".
The dawn service ended with the New Zealand national anthem performed by the Army Band and a large number of the public laying their own wreaths and poppies.
"I come every year to remember my old Dad, and I'll never stop till I die," said Bill Johnson, 66, of Christchurch.
- APNZ