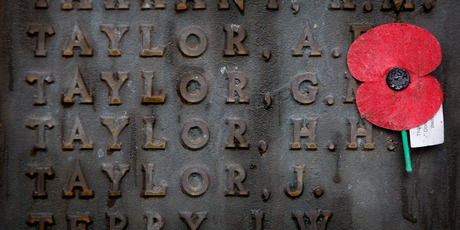 All too rapidly, the ranks of those who served in World War II are dwindling. This will again be apparent at Anzac Day services throughout the country today. Even the youngest of the survivors of this conflict are in their late 80s, and many are no longer able to commemorate the service and sacrifice of their former comrades.
As much was also apparent last weekend when a full military Beat Retreat ceremony at the Auckland War Memorial Museum marked the disbanding of the 24 Battalion Association.
It says much for the bonds formed as the unit fought its way through Greece, North Africa and Italy that the association has endured for 65 years.
It also says a lot about the circumstances in which those ties were forged. One wartime reference to the battalion noted: "I remember the remnants of A company after Sidi Rezegh on parade at Baggush and the response to the roll call. Each name and then the silence."
Unsurprisingly, many men turned their backs on anything to do with war on returning home. However, they subsequently found an increasing meaning in the mateship forged during that time.
Indeed, quite possibly, the battalion association's commitment to look after members' welfare has become more important over time.
"All these years, it's been a renewal of the comradeship of war years," said the president, Murray Adlington.
"It's become an extended family, we've shared our joys and our sorrows. I couldn't have asked for closer friends."
The battalion, which was established in 1940, drew most of its 3500 men from Auckland. During the war, 522 were killed and 1600 were wounded.
That toll more than explains why, as their number at Anzac services declines, their place is more than being filled. Today's services are different but no less impressive as a cross-section of the community, including many children, remember those who served.
The association kept itself going as long as possible by opening membership to children and grand-children of the veterans. Now, with just 120 of its original members still alive, it has accepted that it is time to draw the curtain.
This is a matter of some sadness. However, there is some solace in the ongoing vigour of what is now known as the Royal New Zealand Returned and Services Association. Its good health was commented upon by the Australian newspaper this week as a lesson for its counterpart across the Tasman, the RSL.
As soldiers who served in the two great global conflicts of the 20th Century died, the RSA risked becoming an irrelevant relic. This has not happened because of its willingness to embrace the wider community. Membership is no longer reserved for those who had served in wars or war-like situations overseas.
More recently, this approach has been taken to another level. With military matters seeming ever more remote for young New Zealanders, a new generation is being lured to RSA clubs with trendy T-shirts, social media and a welcoming atmosphere. This inspires the interest that many youngsters have developed in Gallipoli, Crete, Cassino and other great battles in which New Zealanders fought. In turn, it helps to broaden the attendance at Anzac services and foster a sense of national pride and heritage.
Not by coincidence, the RSA is still promoting itself as fostering the spirit of Kiwi connection. That is appropriate. Anzac Day is, in many ways, as much a celebration of mateship and togetherness as a commemoration.
Originally, the former soldiers wanted to honour those values without the intrusion of those who could not know what they had endured. Over time, they changed that in a way which has helped to enhance the reverence for Anzac Day. Such will be the final, fitting legacy of those who served, and died, for their country in World War II.