Two years after disastrous oil spill, sculpture marks the spot where rescued penguins were released
The container ship grounding on October 5, 2011 that became our worst maritime environmental disaster will be commemorated with a sculpture depicting some of its tiniest victims.
To mark the second anniversary of the day the MV Rena slammed into the Astrolabe Reef off the Tauranga coast, spilling 350 tonnes of heavy fuel oil into the sea, a sculpture will be installed next week at a section of Mt Maunganui beach where the last of the little blue penguins were released after recovering from going through the oil slick.
Titled The Sea's That Way, the large Oamaru stone sculpture, crafted by renowned Bay of Plenty artist Peter Cramond, depicts the birds heading back to their habitats after a lengthy stay in captivity.
The work, which will sit on a plinth made of salvaged wood from the Rena, was bought by the Tauranga-based New Zealand Garden and Art Festival Trust and Tauranga City Council and was in Craigs Investment Partners' Sculpture Symposium.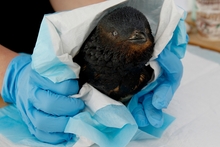 Festival director John Beech said the trust wanted to give back to the community and mark the disaster with a permanent commemorative artwork so that it was never forgotten.
"The foresight of the trust to purchase this special artwork means we now have a permanent commemorative site to mark what was a tragic event," he said.
"The community really pulled together during the disaster and this is an opportunity to come together again."
Two years on from the event, the clean-up still isn't over - the Government last month announced a further $542,000 towards a joint environmental recovery programme.
A long and costly ship salvage process is also continuing at sea, where most of the wreck still lies on the reef.
The sculpture will be unveiled in a ceremony next Saturday afternoon.

• See Herald photographer Alan Gibson's Rena penguins video here.