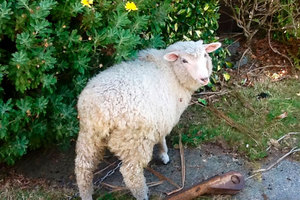 Two Dunedin youths have been arrested in relation to the theft and mutilation of a pet lamb in the city last month.
Larry the lamb was stolen from its Corstorphine home and later dumped with a smashed head outside the house, where it was also set on fire.
The incident occurred on July 21 and police yesterday said two Dunedin youths, aged 17 and 18, had been arrested in relation to the attack.
They are due to appear in the Dunedin District Court on Friday on joint charges of theft and of cruelty to or ill treatment of an animal under the Animal Welfare Act 1999.
Last month, the lamb's owner, Matt Johnston, told the Otago Daily Times the incident had horrified his family, particularly his young daughter, who "absolutely loved" the pet.
"Larry is a member of our family, and I think it is absolutely horrific what they have done. We are after justice," he said at the time.
Police had evidence indicating the lamb may have been taken to a nearby address where people were drinking.