This labrador puppy nicknamed Richard Parker after the tiger in Life of Pi was found swimming for her life in San Francisco Bay.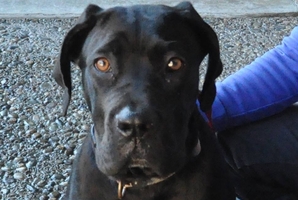 San Franciscans love their dogs. Especially a puppy called Richard Parker.
That's the name given to the six or seven-months-old pup found doing a world championship display of dog paddle - 5km out on San Francisco Bay.
Richard Parker is the name of the tiger that shared a lifeboat with the hero of the book and recent movie Life of Pi but this little dog, a black Labrador cross, did not have the luxury of either a lifeboat or a shipmate and was dog-paddling for her life when a windsurfer found her and pulled her clear.
Since then ... mystery. No one has claimed the dog who was surely lost at sea - or Bay -and a home has been found with the family of the man who took her ashore.
She's become an item of big-time media interest. People have rung up wanting to adopt her. TV stations and newspapers are tracking her progress, checking whether her owners have come forward and whether there will be a custody battle if they do.
It's a story which calls to mind the heart-warming advert where Wilson, the Lotto dog - you know, the wire-haired fox terrier who leaps into the boiling seas to save his owner's Lotto ticket, crosses the world to get home but gives the winning ticket to a homeless man when he sees his former owner smooching up to a cat.
Dogs are a big deal in this city. There are large green areas and San Franciscans exercise their dogs relentlessly. It's a social occasion too. At Marina Green, a prime viewing area for the America's Cup, you often see large groups of people, some with portable barbecues, chewing the fat while their dogs chase each other round the park, having glorious fun.
There are plenty of small and toy dogs, as you'd expect in a city, but there are a high proportion of big dogs too.
As for Richard Parker, she is happy living with the family of the man in an inflatable boat who was called over by the windsurfer and took the pup to shore as part of his daily commute from Berkeley to work across the Bay in Presidio - another very San Francisco thing in this waterfront city.
Oh, and they have decided Richard Parker is no name for a female. They are calling her Lucky.