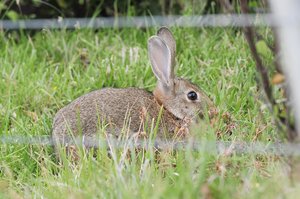 Rival rugby codes in Greymouth have to tackle a rather hairier adversary than usual this year - an infestation of rabbits digging holes in fields and chewing up grass.
Marist Rugby Club spokesman Mark Costello has noticed a boom in the rabbit population which lives in the coastal strip between the pitch and the cycle trail.
"They come out to feed on our field," he said. "They eat the grass, and of course now there's a shortage of grass."
The rabbits seem to be causing more damage than usual in the newly-relaid field.
"They're very tricky to get rid of. We can't use poisons in that area."
The club has spoken informally to the Grey District Council and pest control suppliers, but they have had no luck so far.
"We still haven't got an answer. It's starting to become quite big."
Nathan Aitken, from the Suburbs Rugby League Club, is having a similar problem with the adjoining field, which is being redeveloped.
"When we developed the field and moved our utility shed, there was a whole warren underneath, with 30 or 40 rabbits," he said.
"At this stage our fields are all gravel and dirt because it's too dry to sow it. We see it being a real issue once we get the grass sown."
The rabbits were a concern for the team because the redevelopment was already costing them a lot of money, and holes in the field could lead to injuries.
With the Suburbs field dug up, Mr Aitken suspected the rabbits were crowding into the Marist rugby field.
He also noticed rabbits all up and down the cycle trail in recent months.
"I've never seen that before."
- The Greymouth Star