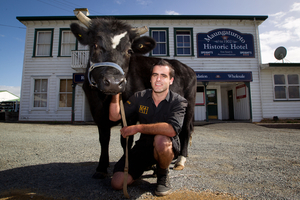 Richie McCow, the unofficial mascot of the 2011 Rugby World Cup, is alive and well - and living at a pub.
"He's still with us," owner Kyle Underwood said. "He's actually living at the Maungaturoto Hotel right now. We had to move him there because the farm that he was on, the run-off, is just bare.
" Everything is dead ... You almost expect tumbleweed to roll past it is that dry."
Richie, however, is still going strong. He shot to fame when discovered by the Herald during the All Blacks' triumphant World Cup run. He was born in July 2011, and many thought he was a good omen, with an all-black coat and a white mark not unlike a silver fern on his forehead.
Richie is now a minor celebrity in Maungaturoto, just north of Wellsford in Northland, and his owner, who works at the pub, is hoping he will prove a tourist attraction as business is slow.
"If the farmers aren't getting any money nobody else is getting any money and we've felt that at the hotel," Mr Underwood said.
Had it not been for his celebrity status Richie would have been eaten long ago, Mr Underwood admitted. Instead he's now living mainly off pub scraps. "He's still living the high life," Mr Underwood said.
"His move was very recent so he's not overly friendly but the locals have taken to him because they recognise him."