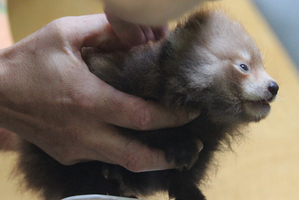 This red panda - one of a set of triplets - has staff at Hamilton Zoo buzzing with excitement.
The cubs, yet to be named, were born on December 20.
Zoo curator Samantha Kudeweh said it had been an exciting time for keepers, who got to see the cubs grow every day.
Each cub weighs about 400g - almost the same as a can of baked beans.
"Red panda cubs are slow to develop so the first months are really crucial," Ms Kudeweh said.
"Red pandas are one of the few species with a global captive breeding programme, which Hamilton Zoo is proud to be part of."
Ms Kudeweh said staff were still trying to come up with names for the triplets and the zoo would most likely run a competition soon.