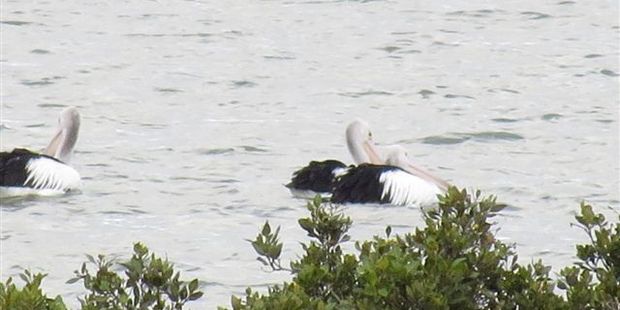 Rhonda Preston-Jones could be forgiven for thinking she was in Australia yesterday morning when she looked out the window and saw three pelicans only metres from her home in Waterview.
The large water birds, characterised by a long beak and large throat pouch, were pottering about in an estuary for about half an hour before flying off in the direction of Avondale.
Ms Preston-Jones photographed the birds after her husband, Michael, saw them through his binoculars.
"I visit Australia regularly and you see them around estuaries and you think what amazing-looking birds ... it was quite fun to see them here."
Ian Grant, a zoologist at Auckland Zoo, was unsure where the pelicans had come from but said there was a good chance they were part of a flock of 13 that settled on the banks of the Northern Wairoa River, near Dargaville, in August last year.
He based this on the infrequent number of pelican sightings in New Zealand. Yesterday's sighting was only the sixth in the past 125 years.
In August Massey University zoology lecturer Dr Phil Battley said the flock of 13 could have come to New Zealand on an "unhelpful wind".
The only captive pelican in New Zealand is a male called Lanky, who has been at Wellington Zoo since 1978.
Pelican sightings in NZ
1890 - Whanganui River
1976 - Kaipara Harbour
1977 - Southland
1977-78 - South Canterbury
2012 - Dargaville
2013 - Auckland