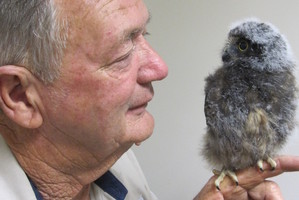 It's irritatingly hot and the kids are crowding the nest in summer. It's time to give a few of them the boot.
Well that's what one flustered morepork mother must have thought when she shoved one of her chicks out of the nest in Glenbervie.
The ousted morepork - or ruru - chick survived the plunge to the forest floor and was collected by a farmer who handed her over to Robert Webb of the Northpower Bird Recovery Centre in Maunu.
The unnamed chick with plenty of baby feathers creating a soft halo around her head is thriving on being hand fed at the rescue centre.
Mr Webb said sometimes mother nature made it hard for moreporks and in hot weather they took drastic measures.
"In hot weather the adult birds often can't keep the chicks cool in the nest so they pick out one or two of the smallest and chuck them out."
The four-week-old chick, which has not been named, will be looked after at the centre for up to another five weeks.
During that time she will learn how to hunt insects and fly.
Over the past two summers the centre has successfully reared 24 chicks who have been given the heave-ho from home and released them back into the wild.
"We handle them so they calm down and there's no stress on the birds," Mr Webb said.
"When we transfer them to an outside aviary we don't engage with them and they learn how to hunt insects."
Mr Roberts advised people not to try and rear abandoned moreporks themselves because they required a special diet with the correct vitamins.
"Otherwise they can develop deformities," Mr Webb said.
For more articles from this region, go to Northern Advocate