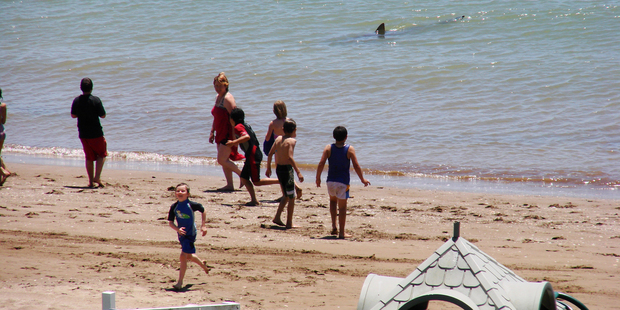 A group of children were happily playing in the water at Paihia, cooling off from the hot sun - then someone yelled: "Shark!"
The kids fled from the water and, when they reached safety, turned to watch a dark grey fin carve through the waves.
Department of Conservation shark expert Clinton Duffy said the shark appeared to be a bronze whaler - which can reach up to 3.3m in length.
Mr Duffy said bronze whalers were primarily fish eaters and there had been no confirmed attacks by this species on swimmers in New Zealand.
One holiday-maker managed to catch yesterday's encounter on her camera.
"The kids got into the water and started swimming, then all of a sudden someone yelled, 'Shark!' and everyone ran," Delphine Baird said.
The Aucklander was taking pictures of the bay from her beach-side hotel room balcony yesterday, a few minutes before the shark's dorsal fin peeled through the water.
"It probably wasn't even three metres out - it was in very, very shallow, it was quite amazing. You could see all of it and I was like, 'Oh my gosh'."