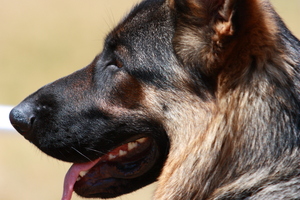 A Christchurch dog owner who poisoned his quake-affected pet with insecticide after it attacked his grandson has today been banned from owning animals for five years.
Hugh Polaschek, 62, pleaded guilty to a charge of failing to prevent suffering, after he decided to put down his beloved German Shepherd by feeding it poison.
He was dismayed when it bit his grandson.
The boy's father - Polaschek's son - was angered by the attack and told Polaschek he was going to return and kill the offending dog himself with a knife.
The distraught pensioner thought he was giving his dog a quick and painless death when he feed it insecticide, Christchurch District Court heard today.
But after the dog was exhumed from Polaschek's Halswell property, subsequent veterinary and toxicology reports concluded that the dog would have suffered "at least several minutes" of distress and excruciating pain.
The court heard that after the magnitude-7.1 earthquake of September 4, 2010, the dog had become "distressed" and "unpredictable".
Polaschek had resorted to walking the dog at night to keep it away from other people.
He believed he was giving the dog a "humane death" on June 24 - hours after it bit his grandson at his home - as he could not afford to pay a vet to put it down.
Judge Gary Macaskill fined Polaschek $500, which he ordered is to be paid to the SPCA.
He was also ordered to pay $862 in vet and toxicology costs, as well as court costs.
Polaschek was also banned from owning any animal for five years.
- APNZ