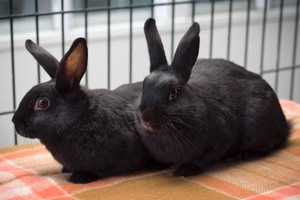 These delightful 5-month-old rabbits are the best of friends and are being adopted out as a pair.
Indigo is the more confident one and she looks after Lilac if she is feeling shy.
The inseparable friends are sweet-natured and enjoy sitting on laps and being patted.
The black-coated rabbits are looking for a home where they will be loved and cared for.
SPCA staff describe Lilac and Indigo as a "darling duo" who are as close as sisters.
They would be best suited to adults or older children.
All SPCA rabbits are temperament-tested, desexed, microchipped and vaccinated.
TO HELP
* To adopt Lilac and Indigo, or any of the other wonderful animals at the SPCA Village in Mangere, contact the SPCA, phone (09) 256-7300. Lilac and Indigo's SPCA Village ID numbers are 214119 and 214115.
* Bob Kerridge's tip: "Your animal is one of the family, its needs are the same as any family member. Give your pets your care and attention and most of all love."