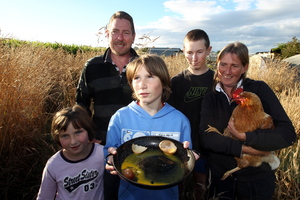 A Hawkes Bay family got more than they bargained for when they cracked open an unusually large egg laid by their pet chicken recently - another egg.
The Youthed family of Frimley, Hastings were surprised by an oversized egg laid by one of their Brown Shaver hens last Thursday morning.
Measuring 75mm in length and 182mm in diameter, the egg also had an oddly thin shell, said Debra Youthed.
"It was quite big and oddly shaped and the shell was really thin and I thought 'that's not going to be one we're going to eating,' so I left it there and during the day my son opened it up and called me at work straight away.
"He said 'Mum, guess what was in that egg?' I knew it couldn't be a chicken because we don't have a rooster, so you can imagine my surprise when he said: 'It's another egg'."
The abnormality is reportedly so rare it is considered a freak of nature.
"We have been looking on the internet and all we can find is two or three other cases," said Martin Youthed.
The family was unable to tell which of the birds laid the unique egg.
For more articles from this region, go to Hawkes Bay Today