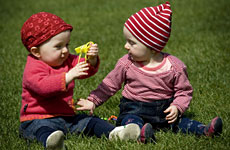 If you thought you were seeing double in Mission Bay yesterday, you probably were.
About 40 families took their twins to the beach in an annual picnic for parents with multiple-birth children.
Christine Charleston, of the Auckland Central Multiple Birth Club, said the gathering marked the start of Multiple Birth Week and provided an opportunity for parents of twins, triplets or more to bond.
Mrs Charleston, who has twin 4-year-olds, said there were many things about raising multiple-birth babies that differed from standard childrearing practice. The multiple birth clubs in the Auckland region offered parents moral support right from pregnancy.
"The first major challenge is the financial side ... Multiple births can present a need for a bigger home or a larger vehicle."
Other strains included having to buy two of everything and paying twice as much in childcare if the mothers returned to work.
The clubs tried to offer practical assistance like equipment for hire, Ms Charleston said. They also ran education evenings and playgroups.
Liz Thomson, mother of 1-year-old identical twins Molly and Lucy, said her life was kept busy as she also had a 2-year-old son.
"It is hectic and relentless in a delightful sort of way."
By Angela Gregory

Email

Angela