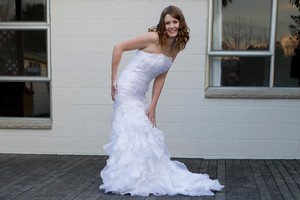 A Christchurch bride-to-be was reduced to tears after receiving a dodgy wedding dress ordered over the internet.
Lisa Murray visited an Australian website called Peridress.com.au and paid $629 for a gown and a bridesmaid dress. But what arrived were under-sized garments from China.
"I opened the box and burst into tears. It was hideous. I gave them specific measurements but it was too small. I can't walk, sit down or eat in it."
The dress was coloured bright white "like an iceberg", Murray said.
"I was expecting a matt appearance but it has a shiny fabric that makes me look pale. The bridesmaid's dress had one too many eyelets, it was like a shoelace you couldn't tie up.
"It had mesh over the skirt and looked like a five-year-old had been let loose with scissors. There were threads everywhere."
After complaining, she was offered 10 per cent off the wedding dress and 80 per cent off the bridesmaid dress, but would have had to pay courier costs of several hundred dollars to and from Shanghai.
She wrote a negative review on the website, but the site took it down.
Murray has since found an ex-sample dress from a local bridal store.