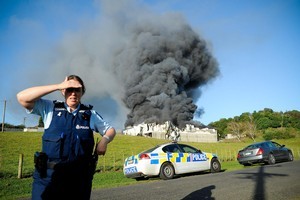 Firefighters were forced to retreat from a blaze that devastated a factory farm yesterday, burning hundreds of thousands of unhatched chicks alive.
The duty manager at Bromley Park Hatcheries in Tuakau was taken to hospital with smoke inhalation, after discovering the fire during a routine check.
The company had laid off 14 staff in the past months, two of them at the Tuakau premises, and shut down its Waitakere site entirely. There was no site security at the weekend, though some of the remaining workers and their families lived in three houses on the site.
The Fire Service received a call at 3.15pm and by the time the first appliance arrived seven minutes later the blaze had taken hold. Huge plumes of black were visible from 10km away in Onewhero.
Sources said contractors had been working on the electrical wiring and air conditioning this week, but Bromley Park chief executive Stuart Weston said he didn't know what caused the blaze.
Despite the politics surrounding factory farming, and the recent redundancies, he was adamant there had been no breach of the security gate. "Security had not been compromised at all."
Weston said there were between 250,000 and 500,000 eggs, and none were due to hatch until tomorrow.
That was at odds with the initial report from Fire Service duty area commander Len Opai, who estimated there had been a million eggs - of which 850,000 had already hatched. "The day-old chicks were burned alive," he said.
Opai said two oxy-acetylene cylinders had exploded - a noise that echoed across Tuakau and sent flames bursting through the roof of the 450 sq metre building. Twenty-one trucks attended from as far away as Auckland City and Te Kauwhata, but water shortages forced firefighters to pull out of the blazing interior.