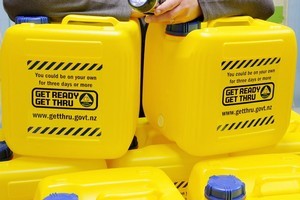 The price of survival is about $450 - at least if you follow government advice.
That's the cost of completing the official three-day emergency survival kit, including clothing, medical supplies and a lot of baked beans.
Civil Defence public education manager Chandrika Kumaran said the cost might seem high, but most people would already have some items on the list.
She said the kit was important because in the immediate aftermath of a disaster the priority would be rescuing the injured and trapped - and emergency services would be stretched to the limit.
"We need those uninjured to fend for themselves as long as possible."
The kit was designed to last at least three days.
Kumaran said that was the international standard and research showed people gave up on the idea if it was any longer.
Top of the list were water, dry food, a torch, radio and batteries. A first aid kit would be one of the most expensive items but people should have one in their home regardless.
Kumaran said some bloggers had indicated their intention to put abseiling gear and gloves to dig people out of rubble in their kits because they lived in apartment buildings. Although such items weren't on the official list, she welcomed their willingness to think about their own circumstances.
Other important considerations were dietary requirements and medication, she said.
Some people who had lost their homes in the Christchurch earthquake had been unable to renew prescriptions and welfare centres didn't provide for people on gluten-free diets.
The emergency kit was designed to keep people going if they were trapped at home, but evacuees would need a getaway kit. That should include extra items such as clothes, documents and toiletries.
A list of recommended items for both kits can be found at gethru.govt.nz. Child-friendly instructions can be found at whatstheplanstan.govt.nz.
KIT TIPS
* Replace food and water every year. Consider stocking a two-week supply for prolonged emergencies.
* Check all batteries every three months. Battery-powered lighting is safest and easiest to maintain.
* Don't use candles because they can tip over in earthquake aftershocks or gusts of wind. Don't use kerosene lamps, which need ventilation and are not designed for indoor use.