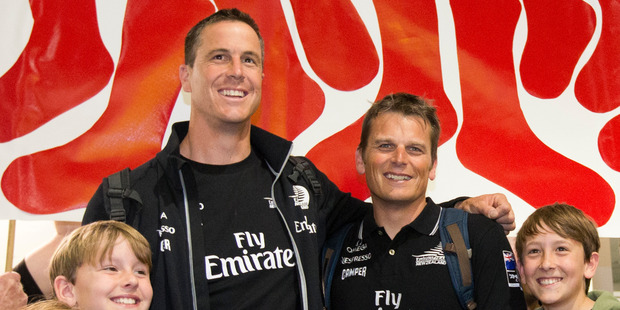 Team New Zealand crew members touched down on home soil this morning to a hero's welcome.
Skipper Dean Barker said the reaction from fans was "mind blowing".
Hundreds of fans camped out at Auckland Airport from before 5.30am to catch the team coming off their plane from San Francisco.
Loud cheers erupted as the Kiwi team walked through the arrival gates to be met by family after almost five months away from home.
Dedicated Team NZ followers travelled from as far as Tokoroa for a chance to meet their heroes. Draped in New Zealand flags, many still wearing their red socks, they waved banners and signs as they welcomed the team home.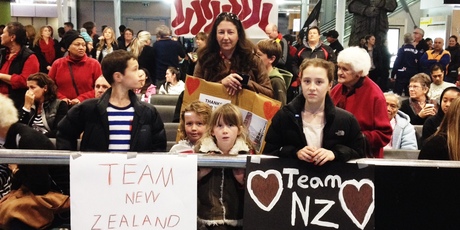 Barker said the support was "incredible''.
"It's so humbling and it means so much to everyone to have that sort of support. It's great to be back in New Zealand, to get home and spend some time with friends and family will be wonderful.''
However, he said the pain of not returning with the Auld Mug was still "very raw''.
"We would just dearly love to be coming back today with the America's Cup but unfortunately we couldn't get there.''
Barker said the team was "still gutted'' at not winning, but were grateful for the support from back home.
"The support that we've had is just unbelievable, and we're very, very thankful for how passionate people are about our team and what it's achieved.''
Grinder Rob Waddell said it was "nice that people look at [the loss] in a positive light''.
"We really tried,'' he said.
Waddell said challenging for the America's Cup, particularly as the regatta continued for so long, was "testing'' and "tough'' - like "having an Olympic final every single day''.
"We were quite focused and trying to do the best we could, and it was humbling to see how much New Zealanders supported it and how much they were into it.
"We could certainly feel that support from over there, a huge contingent of New Zealanders came over throughout a large part of the regatta and all the messages of support you could see in the media, it was great, we are thrilled with that.''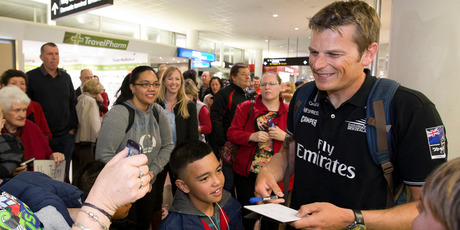 He said Team NZ is a "strong brand'' that he wouldn't want to disappear from the world of sailing.
"I'd like to think there's some value there for New Zealand, we felt proud to be ambassadors for New Zealand,'' he said, adding that "time will tell'' if there would be another challenge and whether he would be part of it.
There haven't yet been any official plans for celebrations for the team, despite calls for an event to be held.
At the Auckland on Water Boat Show yesterday, there was support for a parade.
Stephen Western, from Russell, said Barker and the team could not have done anything more.
"It was a huge effort and we're very proud of them," he said.
His son, Ben, who works at Cookson Boats and helped to build Team NZ's AC72 Aotearoa, said the crew did outstanding work with integrity and a great attitude and that deserved to be recognised.
Prime Minister John Key has said the $36 million put into this year's regatta wasn't wasted.
Economic Development Minister Steven Joyce said: "They need a bit of space to think about what's next ... if they did want to consider another challenge and wanted to talk to us about the Government supporting it alongside others, then we'd treat that seriously."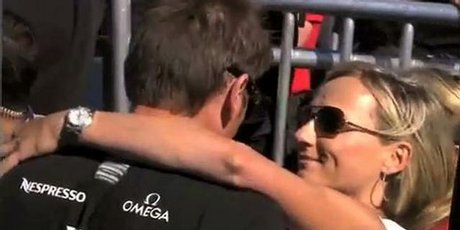 What's next?
Dean Barker: Wants to remain in the team but says managing director Grant Dalton needs to be part of it.
Grant Dalton: Leading up to the event, he said failure to win the Auld Mug would mean the end of Team NZ. Since the loss, he has suggested his time has come. "I always felt that it would be difficult for the team to stay together, particularly financially. There's probably will there, but I've probably done my time.''
Sir Russell Coutts: Still has a job with Oracle but is reportedly moving back to New Zealand and hasn't ruled out a return to Team NZ.
Team NZ: Operations manager Kevin Shoebridge says he does not know what the team's future will be.
The Government: Economic Development Minister Steven Joyce says the Government is keeping an open mind about funding another America's Cup bid.