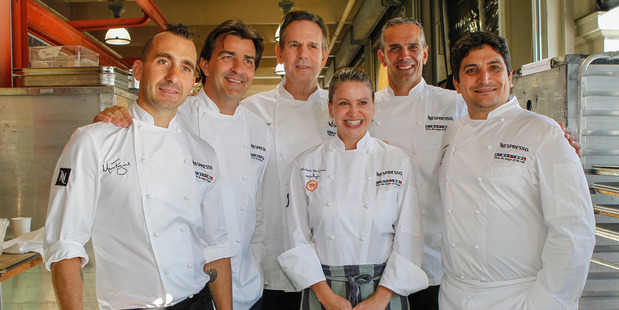 Kiwis were winning on and off the water yesterday at the America's Cup in San Francisco.
As Emirates Team New Zealand strolled to a 5-1 lead in the first-to-seven Louis Vuitton Cup series, chef Josh Emett was more than holding his own against four other Michelin star chefs at the Nespresso Gala Dinner.
Emett, a restaurant owner and MasterChef judge, joined Marc Forgione (New York), Michelle Bernstein (Florida, the only non-Michelin starred chef), Thomas Keller (California), Mauro Colagreco (Argentina) and Yannick Alleno (France) to create a six-course meal, each chef creating a course, for 200 people at the plush San Francisco Ferry Building.
Businessman Stephen Tindall was among the crowd and he would have been pleased Emett's dish was a highlight of the evening. Emett prepared a favourite meat of his, seared venison loin, with black grapes infused with Nespresso Arpeggio, celeriac and Enoki mushroom.
"It was an incredible experience for me to work alongside chefs I have known and respected for many years," Emett said.