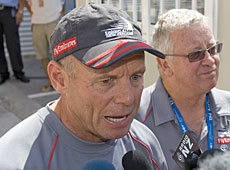 A New York judge's ruling against America's Cup defenders Alinghi was a great outcome given the bad situation that yachting's greatest competition found itself in, Team New Zealand boss Grant Dalton said today.
Dalton also questioned Alinghi's proposal that the one-on-one showdown the Swiss syndicate now faced with American syndicate Oracle should take place in July next year.
He said the Deed of Gift covering the Auld Mug stipulated that it would have to be raced by July this year unless there was mutual agreement between the two parties, and he doubted Oracle would want a delay.
"It's a great result," he said of New York State Supreme Court Judge Herman Cahn's decision today.
"It's the start of the clearing of the fog in the landscape."
Dalton said it meant preparations for the next multi-challenger regatta could get back on track, with Team NZ favouring next year or 2010 as the dates.
Oracle took Alinghi to court last year, arguing that the Swiss had chosen an illegitimate yacht club to be their main challenger and that the two had set rules that were unfairly weighted in the defenders' favour.
"The legal stand-off resulted in the postponement of the next multi-challenger regatta, which had been scheduled for Valenica next year.
In November, Justice Cahn ruled in Oracle's favour. Today, he rejected Alinghi's application to re-argue the case, a decision that has forced the Swiss into the head-to-head contest against Oracle.
That best-of-three duel is likely to be raced in catamarans at a venue to be announced.
Alinghi's lead counsel, Lucien Masmejan, said the court order meant Oracle boss Larry Ellison had eliminated the other competition and gained access to a cup match.
But Alinghi had decided not to appeal and proposed a race date of July 2009.
Masmejan said that, if Alinghi won, they were committed to getting the cup back to a multi-syndicate event in Valencia in 2011.
This month, Team NZ announced that they had begun their own two-pronged legal action against Alinghi.
They said they were taking Alinghi to court to seek "tens of millions of euros" in compensation over the postponement of next year's regatta.
They also filed an anti-trust suit that, like Oracle, questioned Alinghi's acceptance of Spain's newly formed CNEV as the main challenger.
Team NZ said Alinghi had abused their powers as cup holders and acted to stifle competition.
Dalton said Justice Cahn's decision today did not affect Team NZ's legal action, which would proceed.
- NZPA