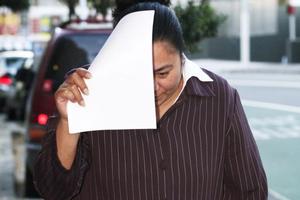 A woman accused of inflicting head injuries which nearly caused her four-year-old son Benjamin to die asked the child's grandmother for forgiveness a few weeks afterwards, a jury has been told.
The grandmother, Tafailagi Faasou, was giving evidence at the trial in the High Court at Auckland of her daughter-in-law Itupa Julie Mikaio, 40, who faces charges of wounding with intent to cause grievous bodily harm and failing to seek medical help quickly enough.
Mikaio, of Blockhouse Bay, Auckland, was charged after her son Benjamin Mikaio had to be taken to Starship Hospital unconscious on June 30 last year with head injuries that could have been fatal.
Mikaio has admitted a charge of injuring with intent, causing injuries to his body by striking him with a shoe, but says she didn't cause the head injury and that her actions after Benjamin became injured were appropriate for what she understood.
Ms Faasou, the mother of Mikaio's husband Haini Mikaio, was Benjamin's primary caregiver in American Samoa between December 2004, when his parents left for New Zealand, and December 2007.
She said she was sad the child who called her "mum" was leaving her in 2007, but understood it would be a good opportunity for him to meet his family and get an education.
Ms Faasou came with him for three months, and then felt "heartbreak" when she returned to American Samoa in February 2008.
She returned in July to be with Benjamin after hearing he had been admitted to Starship Hospital with serious injuries.
In mid-July there was a meeting between family members and Starship Hospital staff about Benjamin's injuries, after which the accused approached Ms Faasou.
"She came up to me and she was crying and asked for my forgiveness for being cruel to Benjamin," she told jurors.
Under cross-examination from Mikaio's lawyer Ted Faleauto, Ms Faasou said she'd never seen Ms Mikaio be cruel to Benjamin, who had tried to treat him as well as his four siblings.
Interviews with Mikaio shortly after Benjamin's admission to hospital were subsequently read to the court.
At her first interview she said she never hit her children, but in her second interview she admitted hitting him four days before he was admitted to hospital.
She said she struck Benjamin about four or five times on his buttocks, and possibly on his hand as he tried to shield himself from the blows, with a sandal.
This was because he had been jumping up and down on his bunk bed and she wanted to stop him and to discourage her younger son from doing the same thing.
However, she denied causing serious injuries to his pelvis and chest, and denied she caused his head injuries.
Mikaio told police Benjamin had fainted and fallen backwards on to his head on the morning of June 30, and made no noise when he was checked. She said she took him to the kitchen to splash water over his face, upon which he began crying.
Mikaio said she then changed his clothes, wrapped him in blankets and placed him on a chair. She said he was moving and stretching, but though he looked asleep, he appeared to be sick.
After midday she decided to take him along with the family to a Samoan healer in suburban Glen Innes. Shortly after arriving there, the healer said she should call the ambulance.
The Crown alleges that Mikaio was so angry after Benjamin wet his bed that she hit him on the head and then threw him to the floor, causing injuries that would have killed him if he hadn't received surgery later that day.
It also says Mikaio delayed seeking medical help for some hours because she feared having to answer questions about how she was injured.
Mr Faleauto will decide whether any defence witnesses will be called later today.
- NZPA