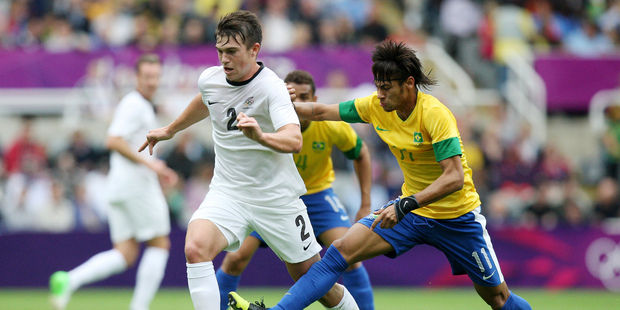 Tim Payne and the Oly-Whites held their own for long periods against Neymar and Brazil. Photo / AP
Don't expect total football just yet, but the attack-minded approach favoured by the Oly-Whites in London provides a template for what might be seen from the All Whites in the future.
Neil Emblen's team took just one point from their three matches but it was the manner of their performances that left a more lasting impression.
Here was a New Zealand team playing out from the back, prepared to play through midfield and attempting - with some success - to keep possession.
Even against Brazil, where they were soundly beaten 3-0, the team at one point put on a 17-pass move that took them the length of the field, just before the South Americans struck their first goal. It was a notably different approach to the All Whites' fare before and during the 2010 World Cup, which was built around solidity, numbers in midfield and a direct, long ball approach when in possession.
The future seems bright when you consider the 18-man squad for their final match against Brazil contains 13 who have already played for the All Whites. Youngsters such as Tim Payne, Chris Wood, Kosta Barbarouses, Michael McGlinchey and Marco Rojas have attacking verve in their DNA and will form the core of the All Whites side in the next few years.
"In London, we saw some very positive attacking football," says former All White Fred De Jong. "It looked an attacking team when it was selected. They carried that expectation and in that way, they came through; I haven't seen such composure in possession from a New Zealand men's team in a long time - if ever."
De Jong has always been an insightful, perceptive voice in football circles but in his new role as New Zealand Football's high performance manager, his opinions now carry more weight.
He was impressed with the first half against Belarus when the New Zealand side dominated before eventually losing 1-0 to a team who had reached the final of the European under-21 championships. There were also periods of delightful play in the 1-1 draw with Egypt and those bright moments against Brazil.
"There has already been a definite shift in the way a lot of our national teams play," says De Jong, "as we saw with the under-17s at their World Cup, as well as the Football Ferns in London. At All Whites level is where it will require the biggest adjustment but I would hope and expect that [such a shift] is possible. We need to produce players who are comfortable on the ball and that is the direction the football is going anyway, thanks to the influence of Spain and Barcelona."
De Jong says it will depend on the quality of the opposition. He also points out that it is contingent on quality time with players, not always possible in the international arena.
"Look at Auckland City - they have changed their style dramatically over the last few years from a direct approach to a possession-based style," says De Jong. "But [coach] Ramon Tribulietx has had the best part of two years with the players. You don't usually get that luxury in international football. Overall, the most important thing is to stick to a style of play that suits the players you have got - but in time you would hope our coaches have more flexibility in the system they use. "
The Olympics also provided a graphic illustration of how our football expectations have changed over the past few years. The Oly-Whites were expected to beat Belarus and were also disappointed with the 1-1 draw with Egypt, sensing that the three points were there for the taking. It's a different feel to the celebrations back in 2009 at the Confederations Cup, when there were animated hugs on the touchline after a 0-0 draw with Iraq.
"It's a good thing," says De Jong. "Especially with our youth teams now, there is a real belief that we are going to go beyond the group stages. Of course it does depend on the draw and we will still be underdogs at most tournaments. But I think now we are seen as a good solid team, one that believes they belong there, always gives 100 per cent and is never going to chuck in the towel."