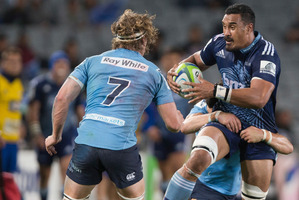 The return of Jerome Kaino has taken competition for places among the All Black loose forwards to an even higher level.
I have been impressed with Kaino. He has come back with a hunger to prove himself all over again and win back his All Black place on merit and not on reputation.
These last few weeks, you'd have to say he'd be pushing hard to get back into the All Blacks. On form, he's been among the best in the competition and I just can't see the selectors leaving him out.
Kaino's form with the Blues has also had the effect of highlighting how much Steven Luatua is struggling. He was so capable last year but now he wouldn't be in that top group of loose forwards on form. There are plenty of other loosies around the country playing better than him. But despite that, I'd be surprised if the selectors leave him out of the first All Black squad this year.
Steve Hansen has been loyal to his players in previous years and I'd imagine he will be again in the case of Luatua. He wasn't helped that in those early rounds, when Kaino wasn't available and the Blues had some injuries at lock, that he was asked to do a lot for the team. He suffered from what I would call an overload of responsibilities.
The thing about being in the All Blacks is that you only ever have to focus on doing your primary job. That is partly why we have seen players who in the past have suffered poor Super Rugby form, come good when they play in the tests.
When it comes to actually picking a loose trio to start against England, assuming Richie McCaw and Kieran Read are fit, well they are going to play. At the moment it would be a close run thing between Liam Messam and Kaino for the No 6 jersey and much will depend on what happens over the next few weeks.
Messam has been playing not too badly, but he's been part of a team that hasn't really got going. Kaino to my mind probably has to get the No 6 jersey because he was asked to come home and win it back. He's playing well enough to do that and they have to reward him.