While planet NZRU obsesses about national brand's money-making potential, state of game on field suffers.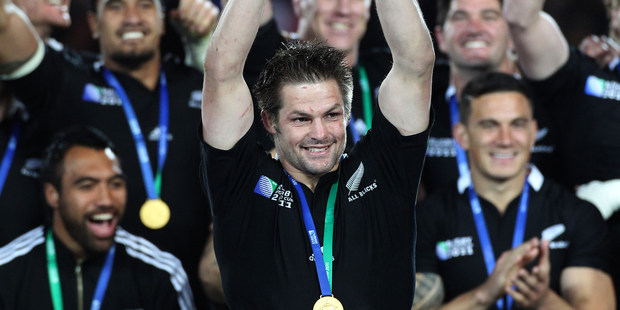 Rugby has a sleeping pill problem all right. It's called the Super 15. What a yawn.
Blues coach John Kirwan might have over-simplified the solution, claiming the world would be put right if only halfbacks could feed scrums minus the guiding hand of the referees.
But at least Kirwan was addressing a real and major issue, the state of the actual game on the field, a factor - although certainly not the only one - in a lack of audience participation to match rugby's alleged place as a "religion". Kirwan's urgency was fantastic, and much welcomed.
If only it would spread to HQ. Because down at the NZRU, it's another planet. Black suits. Black cars. And celebrations over black ink.
While the rest of us wade through eternal scrum delays, erratic/poor form from the New Zealand sides and the regular sight of sparsely populated stadiums, chief executive Steve Tew was euphoric over the latest financial figures.
Standing proudly on his mountain of cash, Tew was moved to praise that most wondrous of events, the All Blacks' clash against Japan last year.
That low-grade exhibition test netted the NZRU a bag of loot. It represents the rugby mantra, a game ruled by remote control, obsessed by Brand All Blacks and its earning potential. Never mind that the All Blacks v Japan is a competitive joke.
Nothing has been the same since the All Black bosses, with the NZRU's support, yanked an entire test squad out of much of the Super competition in 2007. Since then, the rugby honchos' answer to just about everything is stabbing more flags on their world map when they aren't waffling on about the Olympics.
The only reason the NZRU gets away with its relative lack of interest in anything below All Blacks level is the lack of team sport opposition. The NZRU's influence also stifles criticism. No football code in Australia would dare pull a stunt like ripping the best players out of a competition.
There are pockets of enthusiasm, yes, absolutely. And some of the most enthusiastic fans I meet are new New Zealanders. But there are also a lot of old rugby supporters who can't give a toss about the game right now, and new audiences lost. Games attracting only moderate interest are paraded as local derbies. Genuine tribalism though, like we see in overseas sport, is dead.
The white knights are the All Blacks. Their hold on New Zealand is as strong as ever. The production line of players is mainly impressive. So long as the All Blacks sweep most of the things placed before them, this fatuous kingdom won't crumble, the problems won't be laid bare. But nothing lasts forever, not even All Black invincibility in the professional age. Maybe that's when the NZRU will come crawling back to us. Then again, maybe they won't even need us then. A few more games in Tokyo anyone?
Blues blue
Tinkering over, form will now dictate? Really? Kirwan is off his rocker if he used the first five Super 15 rounds to trial some players, as he implies. For starters, this is precisely the attitude which has destroyed the mana of the competition. Secondly, the Super 15 isn't long enough to adopt that attitude.
Every point is precious in the hunt for playoff spots. What Kirwan actually means is that some of his initial plans didn't work out. But once a tinkerer, always a tinkerer.
To these eyes, the lack of highest quality power locks leaves a damaging hole in the Blues' operation and aspirations whereas other problems are not beyond repair. The Blues are misfiring, but they still have tremendous firepower.
Tackling repercussions
The NRL should throw the book at Jordan McLean, but its timing is off. McLean is the Melbourne Storm player whose lifting tackle has caused a dreadful spinal injury to Alex McKinnon of the Newcastle Knights.
Just as there is a new, strident attitude to shoulder charges and concussion, players have to fully accept that any form of lifting tackle is an absolute no-no. McLean clearly put an arm between McKinnon's legs.
The NRL could make a major point here. The severity of the injury will remind players of their obligations and the dangers. But - and this is a big but - effectively suspending McLean pending a hearing is not justice. He has been stood down by the PR-obsessed NRL for the Storm's next game, and his hearing postponed indefinitely out of respect to McKinnon and his family. McLean might not want to play anyway, but that is his choice, not the NRL's. McLean also deserves his day in court without prejudice.
Leuluai's return
Thomas Leuluai took a while to grow on this punter. But grow he did, because he's a combative little bugger who likes to mix it in the trenches for the Warriors.
If he can add heart in the halves, so be it, even though utility Leuluai is not the most gifted of playmakers. It's great to see he is back from injury to face a resurgent Wests Tigers on Saturday. Leuluai is back, but elsewhere ... on past form the club will come up with another new jersey design for this match in Wellington.