When politics put Norman Fray off the Springboks, he fell in love with the men in black.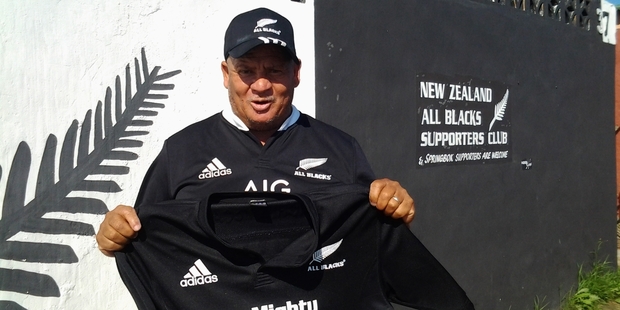 On a street in a suburb of the South African coastal city of East London is the unusual sight of a big brick wall with the slogan Mighty All Blacks and New Zealand All Blacks Supporters Club painted on it.
It is unusual because this is Springbok territory. The man who lives in the Buffalo Flats house inside the wall is 62-year-old Norman Fray, a born and bred South African who is a diehard All Black fan.
"There is no captain like [Richie] McCaw. He is a special player - a hard player. He must go to the next World Cup. And Dan Carter - what a player. I have been an All Blacks supporter since I was 18 years old."
Mr Fray, who was classified Coloured under apartheid and is of mixed race, said he became a fan of the All Blacks because of politics.
"The colour of the Springbok team is a problem. I did not want to support the Springboks because of politics so I looked around for another team. Because the All Blacks had Maori and Pacific Island players, I decided to support them.
"Now I support them because of my love for the team. I love the way they play the game - they play for 90 minutes, not 80 minutes, but 90 minutes. They can hold out against anyone like they did against Ireland recently. I was worried with that game."
He said the All Blacks' depth was amazing. "When one player gets injured, there is another one to take his place. Take Beauden Barrett. He is a good player and they even have that [Tom] Taylor. What depth."
Mr Fray, a self-employed builder, said his wall was well known in the community and he sometimes even had Kiwis come and look at it. His house was full whenever an All Blacks test match was on.
"People know my house and there are lots of people in this community who support New Zealand."
He spent nearly $800 to get a sign-writer to design and paint the wall.
Local Springbok supporters would often jeer him. When the Herald visited him, young boys wearing Springbok jerseys outside did not even want to have a photograph taken next to the wall. "No,not All Blacks. We are Springbok supporters," said one.
Mr Fray said he put the All Blacks' success over the years down to their mental strength and the fact that they played for the whole nation of New Zealand. They also kept their players and did not select foreign-based players.
"I remember the days of Sid Going, he was good. But Beegee [Bryan] Williams, he was my player, and Jonah Lomu."
Mr Fray said he always made sure he attended All Black matches when the New Zealanders played in South Africa.
He has never been to New Zealand. "I would love to come. It is a beautiful country. I will die an All Black. It is just so sad that I have not met McCaw. I would love to meet him."
And when he says this, he means it. He has left instructions with his family to bury him in an All Black jersey.
His friend Jan Leew, also an All Black fan who met McCaw, died a few years ago and was buried in the jersey.
Mr Fray said there were friendly rivalries within the family.
"My son Selwyn, who is 28, supports the Springboks, but he did not go through the hard times in this country."