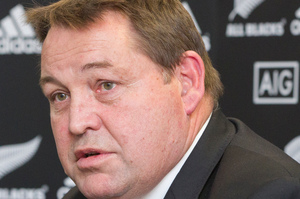 Two scars disfigured last year's All Blacks chart.
It was hard for them to separate the pain from a drawn test with the Wallabies and a final loss to England.
Like most top sides on the international rugby circuit, the All Blacks carry an in-built "anyone but England" mantra about their meetings with the red rose brigade.
The All Blacks' comprehensive 38-21 loss in the final test at Twickenham ate into the players' summer break. They struggled with illness during the week but England played at a level rarely seen from them.
That defeat was galling but the stalemate at Suncorp nearly a year ago was probably more infuriating for the All Blacks coaches and their squad.
Coach Steve Hansen issued some public warnings about the black ice test for his men and later assessed his players had not gone "bone deep" enough with their preparation.
They had seen off the Wallabies comfortably in their initial two meetings to retain the Bledisloe Cup and then played a sloppy 18-all draw in Brisbane.
That ache still remains and will be near the top of Hansen's reminder list when the All Blacks reassemble for next week's third test in Dunedin with Australia.
The Wallabies have swung between average and poor for much of this season. They hung on through the Lions series but rarely found any consistent substance and coach Robbie Deans was gone after the series loss.
Ewen McKenzie took over but has been unable to staunch much of the bleeding. Two wins against Argentina in the Rugby Championship, including one by a flea's tail in Perth, were nothing special.
But the final 54-17 win in a match of modest quality will have been a tonic for the Wallabies before their long trip home then another journey to Dunedin.
Meanwhile, the All Blacks will be juggling the effects of long-distance travel and euphoria after their thrilling victory against the Boks to annexe the championship.
A year ago they returned from Soweto where they had beaten the Boks 32-16 to complete a tournament clean sweep. That elation became deflation a fortnight later with a deadlock at Suncorp.
That memory will be right in the All Blacks' sights next week and a substantial weapon for the coaching group.